Shrimp Lo Mein is another easy family dinner idea that will have you in and out of the kitchen in no time. This is one of those awesome 30-minute meals you find yourself making again & again. We absolutely love Chinese food. Simple, fast and so delicious!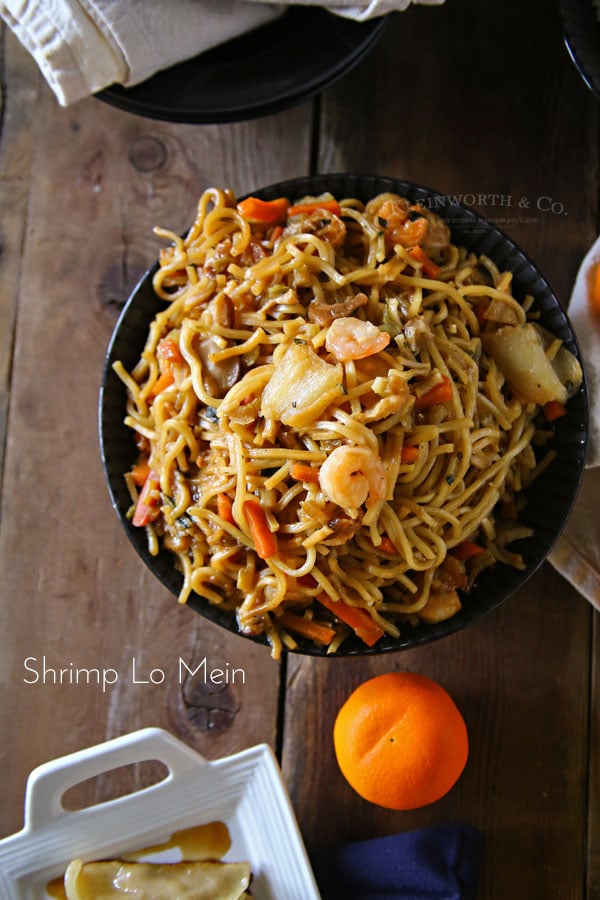 Hello, there my 36th Avenue friends. It's Gina from Kleinworth & Co. Is life getting a little busy for you right now? I know, with all the demands on the schedule this time of year, it makes it so hard to want to get in the kitchen & make dinner. I have devoted the whole month to our favorite quick & easy recipes so we can spend less time in the kitchen & more time doing things we love, like exploring the beautiful lakes all around us.
This time of year the bald eagles are everywhere & it's so cool to go watch them while they are here. So it's great when we can carve out time to get out there & do that. Spending less time making dinner is a great way to free up the schedule.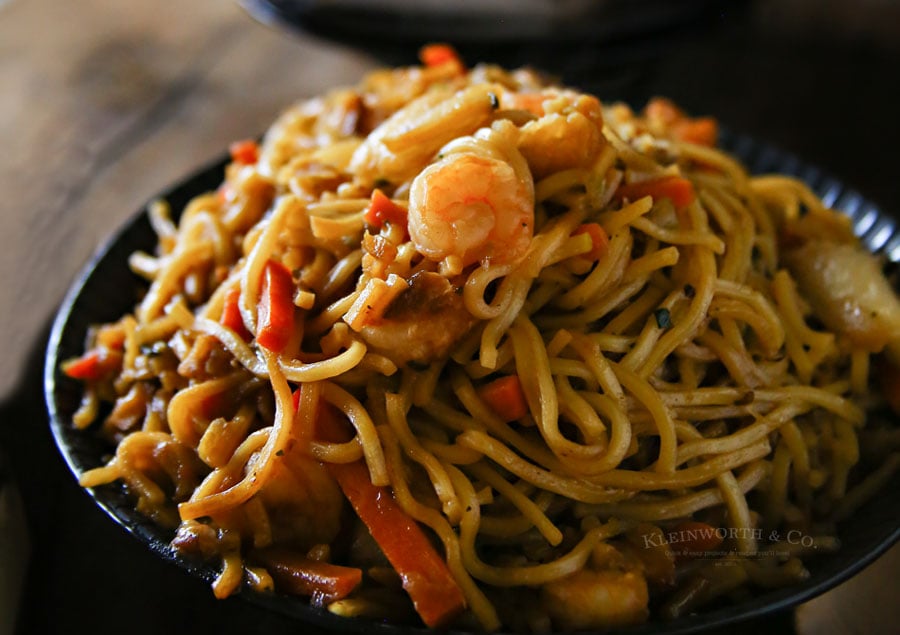 We used to get take-out at least once a week. But since we moved to this area it's been really hard to find really good Chinese food. So after trying every place in town, we have had to learn to make our own, which really hasn't been all that bad. Now we are to the point where we actually prefer our recipes over the restaurant. I love that because now I can have it whenever the craving strikes & it takes less time to make it than it does to wait for take-out. That's a huge win for me!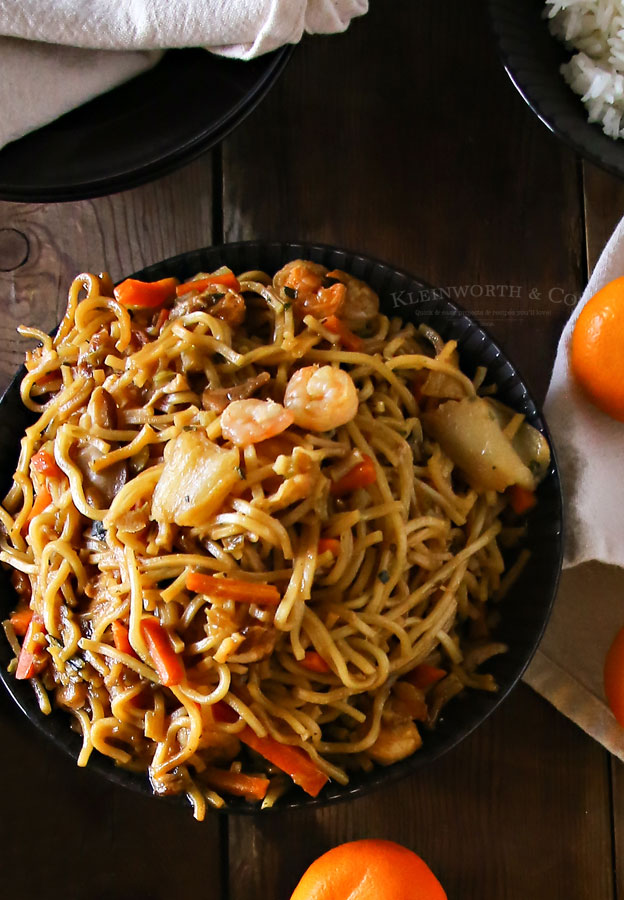 Shrimp Lo Mein
Easy shrimp lo mein dinner recipe.
Ingredients
1- (8 oz.) pkg lo mein noodles
2 tbsp lime juice
1 tbsp light brown sugar
3 tbsp soy sauce
2 tsp Sriracha hot sauce
2 tsp ginger
2 tbsp + 1 tsp sesame oil- divided
1 tbsp butter
½ cup crushed pineapple chunks
½ pound small shrimp, peeled
1 cup sliced carrots
1 cup sliced Cremini mushrooms
2 cloves garlic, minced
Salt to taste
Instructions
Noodles
Over high heat, bring a large stockpot of water to a boil.
Once the water is boiling, add in lo mein noodles & cook 3-4 minutes or to pkg instructions
Prepare sauce
Combine lime juice, brown sugar, soy sauce, sriracha, ginger & 1 tsp of the sesame oil in a small bowl & whisking well to combine. Set aside.
Stir-Fry
In a large non-stick skillet, melt butter & add 1 tbsp sesame oil & shrimp & cook for 1-2 minutes on each side or until firm & pink
Transfer cooked shrimp to a bowl & set aside
Add pineapple, sliced carrots & mushrooms to the pan & increase heat to high.
Stir in remaining sesame oil & stir fry until edges crisp & vegetables are softened
Stir in garlic & cook an additional 1-2 minutes
Add drained noodles & shrimp to the skillet along with the prepared sauce
Reduce heat, cook & stir until all ingredients are well coated with sauce & flavors have blended - about 2 minutes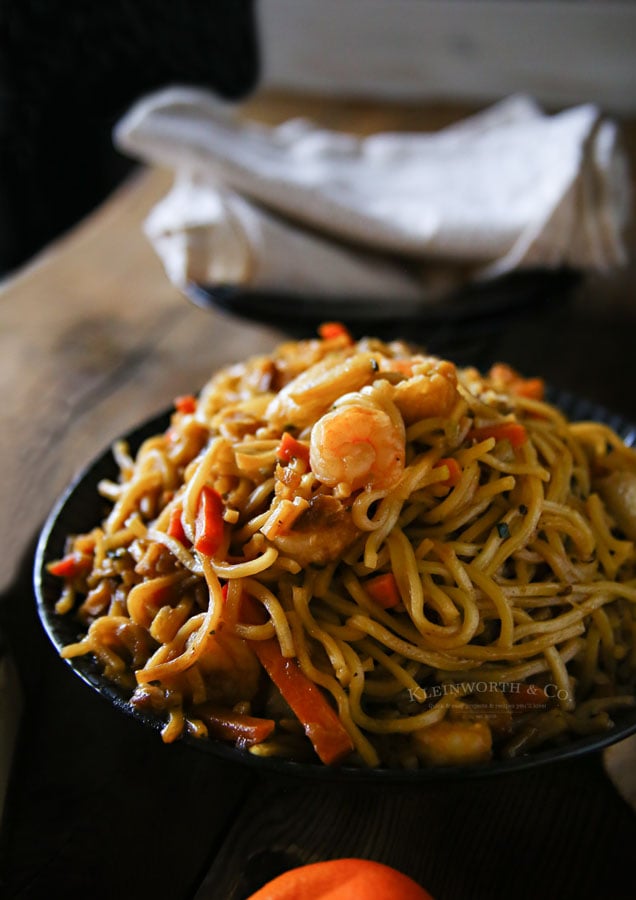 This is one dinner recipe you will fall in love with.
Thanks for spending time with me today! See you next time!
Looking for more of our easy family dinner ideas?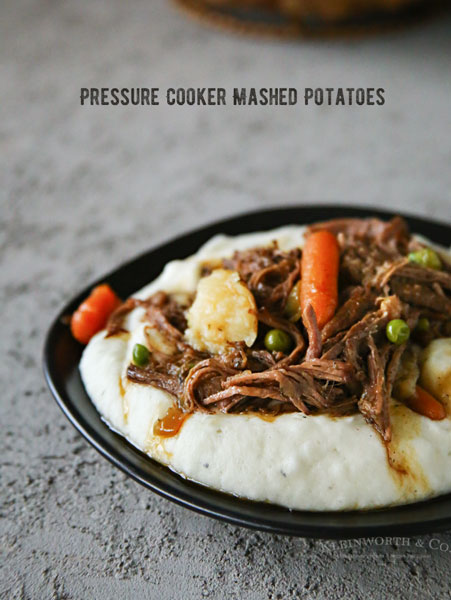 Pressure Cooker Mashed Potatoes