Oh yes… Spring Break!
The flowers are blooming, the birds are singing, the grass is turning green all over again.
The breeze is clean, the air is warmer and after a few days with the kids at home you start hearing…
Mom… I am bored!
Don't worry girl I got you!
My Spring Break is over… consider me a pro!
I survived!
Here I have for you 20 activities for your bored ones.
My own Anni taught me how to make these beads.
They are cute, easy and fun. Your kids will love making their own!
Have even the boys make some for grandma or teachers appreciation day.
tutorial by Anni.
The coolest thing about this one is that they will play for hours and days since they can change their own rules.
Check out also the wood dice tutorial!
Take the sharpies out… it is time to design some jewelry.
Watch their faces when they see their creations shrink and harden before their eyes!
We actually made this one during our Spring Break and this is the best play-dough recipe we have ever done.
Soft, clean, colorful and it smells GREAT.
You are going to love it as much as we do!
tutorial by The 36th Avenue.
Older kids will have fun helping get this project ready and younger ones will love to assemble the necklaces.
You can get the pencils at the Dollar Store.
tutorial by Cut Out + Keep.
What a great idea!
Every kid I know loves a club… let them have it.
tutorial by Jen from Tatertots & Jello
This is genious!
tutorial via Kimoomu.
Make Bird Feeders
What a perfect Spring project!
tutorial by eighteen25
Simply cool!
Make these adorable finger puppets with your kiddos.
tutorial via favecrafts.
I want to be a kid again!
tutorial via Scrapbooks etc.
Isn't this a brilliant idea? Yes it is!
tutorial via marthastewart.com
This one is a must do!
tutorial by Come Together Kids.
This post is a Glow Sticks Treasure BOX.
My kids are going crazy over all of these ideas.
visit Play At Home Mom LLC for more ideas.
Another big bubblelicous creation.
tutorial via Projects for Preschoolers.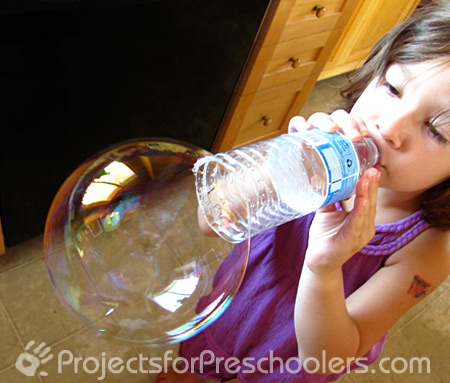 While making this craft you can even take this time to teach your children
about the value of money and hard work.
tutorial via marthastewart.com
Baking time in our home is family time.
Kids will love to create their own little cakes.
Fun to make and fun to eat!
recipe by Brooke Mclay via babble.com
Let them express their own style using fabric markers and their imagination.
Love this one!
Yes you can handle a little noise… trust me.
tutorial via marthastewart.com
Teach them!
tutorial by LITTLE BIRD.
So there you have them… 20 ideas, 20 tutorials, 20 opportunities to create memories.
Have fun!
Happy Saturday!
Besos!
Desirée