Delicious and easy recipes for you and your family! This week we have for you Baked Chimichangas, Crock Pot Meatballs, Cheeseburger Egg Rolls, Veggie Pasta Salad, Chicken Noodle Soup, Spaghetti and Meat Sauce, Balsamic Honey Pulled Pork Sliders, and for dessert Chocolate Crunch Brownies. So yummy!
Your hostesses for this week are: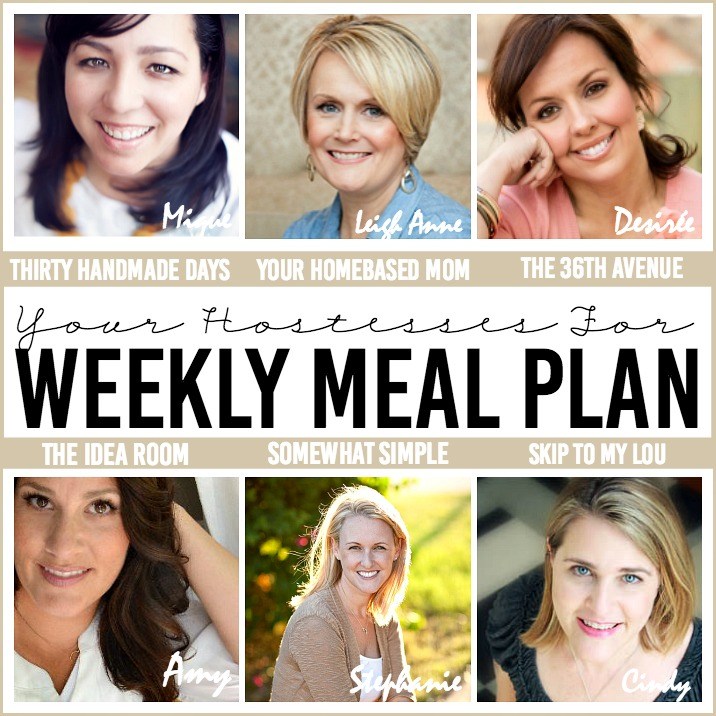 These Baked Chimichangas from Skip to My Lou come together in a cinch especially if you keep cooked chicken in your freezer.

Ready for a simple dinner idea that your family will love?
These Crock Pot Meatballs by Somewhat Simple are just for you!

These easy Cheeseburger Egg Rolls served with a simple sauce on a side from The 36th Avenue, will add a unique twist on any meal.

It takes just a few minutes to prepare this Veggie Pasta Salad by The Idea Room. Simply toss today all the colorful ingredients together in a pretty bowl and serve warm!

This Chicken Noodle Soup found on Thirty Handmade Days is pure comfort soup and the perfect dinner solution to a busy fall night!

This recipe by Your Homebased Mom is a fun twist on a family favorite of homemade Spaghetti and Meat Sauce.

Your Homebased Mom is sharing these Balsamic Honey Pulled Pork Sliders They make the perfect weekend meal.

These amazing chocolate crunch brownies from Skip To My Lou are sweet and gooey with a delicious crunchy chocolate peanut butter topping.
If you have any suggestions on recipes you'd like to see or ways we can make this meal plan even better, please let us know in the comments section below.
We will see you next week for another delicious week's worth of meals!
And if you missed our other weekly menu plans, click HERE.
Have a delicious day! 
Desirée