I can't tell you how excited I am to open my blog to super talented Rebecca from
I could spend an entire post talking about how much I love her work.
Her photography is beyond beautiful, each of her pictures say a story and that is
what makes her photos unique and simply magical.
Today I am honored to present you Rebecca's latest e-book Real. Life.Photography.
As I went though the pages of her book besides the gorgeous pictures that Rebecca shares,
 what caught my eye was the easy to follow instructions on every page.
 One of the challenges that I face when I try to learn photography is that the vocabulary is too complicated.  
I get lost, bored, and I give up after a little bit!
That is not the case here!
Rebecca is sharing tips, how to set your camera, and her own personal experience behind the lens
 in a language than you and I can understand!
I love it!
Wait! There is more!
Rebecca wanted to share with all of us some of her favorite actions.
They were created by Christy the talented lady behind Addy Lane.
These actions are set as a beginner level, which means that you and I can transform our ordinary pictures
into EXTRAORDINARY ones easily!
I want you to know that these actions will work on PS/PSE.
How awesome is that?
Well Rebacca and I want you to experience her work first hand,
so today we are sharing with  you an amazing giveaway!
One lucky reader will get a copy of her Real. Life. Photography.
AND one  Simple Fixes action set (PSE or PS, your choice) from Addy Lane.
You are going to love it!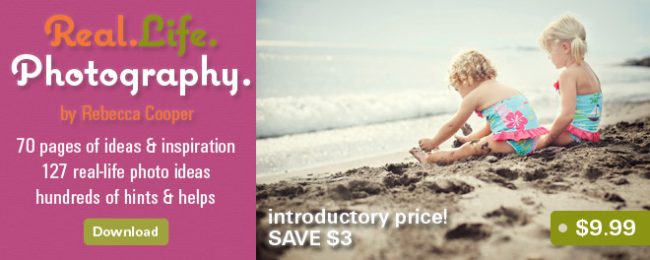 If you are like me and don't feel like waiting there's currently an introductory special for the book + actions running.
 The regular price for the book or the actions is $12.99 but they can be purchased now for $9.99 each.
It gets even better…
 If purchasing the actions + book together you receive an additional 20% off using coupon code PHOTOFIX.
I can't wait to choose a winner next Monday and see what pictures you take!
Se you at 6:30pm ready to party!