M&M Sugar Cookie Bars – deliciously frosted soft sugar cookie base, topped with mini m&m's! You can't go wrong with these!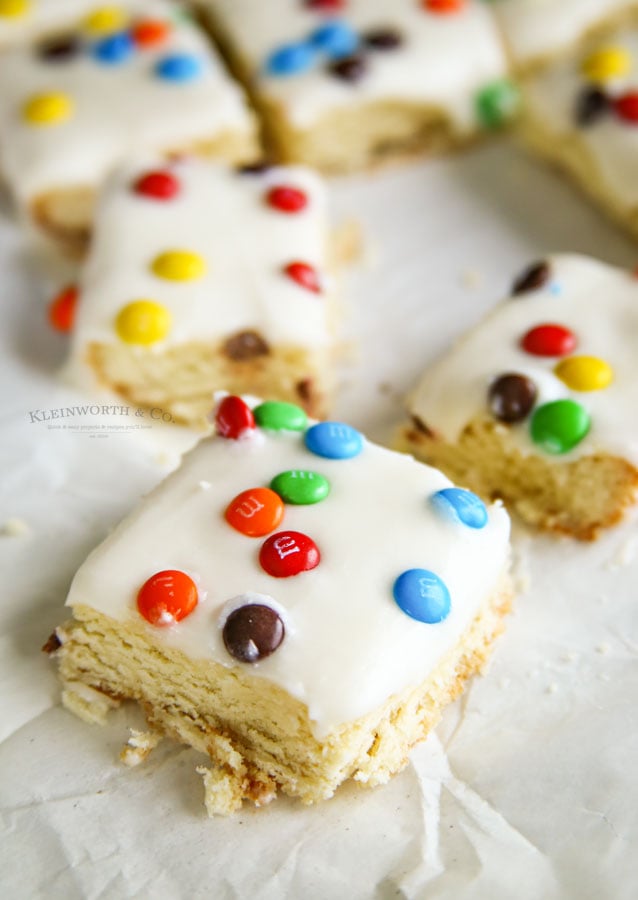 Hi friends! How have you been? We are sure enjoying spring here & that means I'm baking all sorts of goodies. I'm not sure why, but the sunshine & slightly warmer temps give me the urge to bake.
The whole family was really craving sugar cookies one weekend, but I was really tight on time. I needed an alternative to mixing, rolling, cutting, baking & then frosting so many individual cookies. But I knew that making sugar cookie bars was quick & easy, which made them the perfect dessert for us.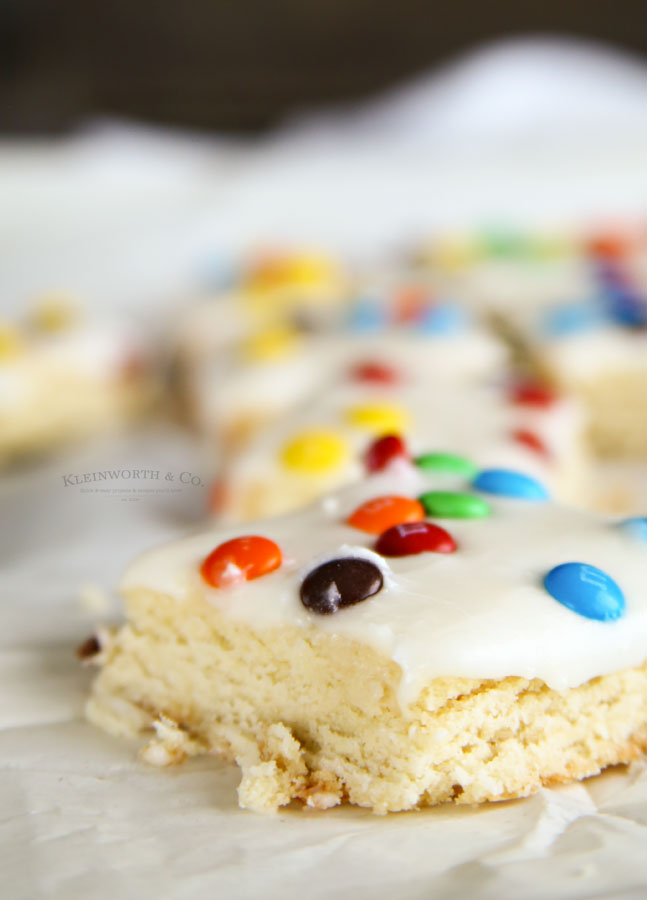 I love these because I can mix the dough, transfer it to one single baking pan & bake like one giant rectangular cookie. Then when it comes to decorating it is as easy as frosting a sheet cake. Just spread it on, sprinkle on your mini m&m's & cut.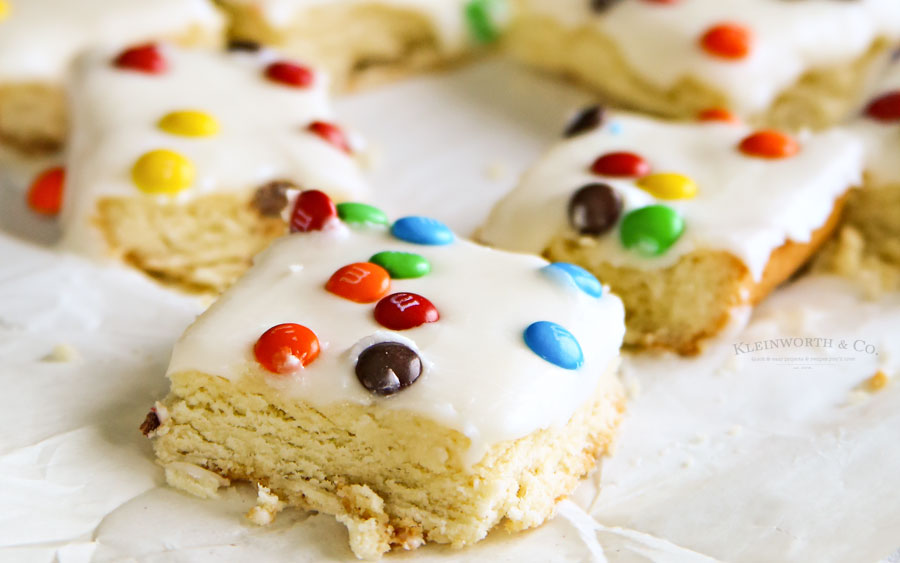 So when you really want a sugar cookie without all the extra work, these M&M Sugar Cookie Bars are the perfect alternative. I know you will love them as much as we do. Enjoy!
M&M Sugar Cookie Bars
M&M Sugar Cookie Bars
M&M Sugar Cookie Bars
Ingredients
½ cup butter, softened
1 cup granulated sugar
1 egg
1 egg white
1-1/2 tbsp sour cream
1 tsp vanilla extract
2-1/2 cups flour
½ tsp baking powder
½ tsp table salt
¼ cup butter, softened
2 cups confectioners sugar
2-3 tbsp milk
½ teaspoon vanilla
pinch of salt
⅓ cup mini m&m's
Instructions
Preheat oven to 375.
Line a 9 x 13 pan with parchment & spray lightly with cooking spray - set aside.
In a mixer bowl with the paddle attachment, cream together butter & sugar until light & fluffy.
Mix in egg, egg white, sour cream & vanilla until well combined.
Slowly stir in flour, baking powder, & salt to form a crumbly dough.
Transfer dough to prepared pan & press into an even layer. Using a fork, poke the dough every few inches so it will bake evenly.
Bake17-20 minutes or until lightly browned around the edges.
Cool completely before frosting
Beat together butter, confectioners sugar & milk
Add vanilla & salt & beat until fluffy.
Spread over cooled bars, sprinkle with mini m&m's & cut into squares.
I hope you enjoy this recipe as much as we do!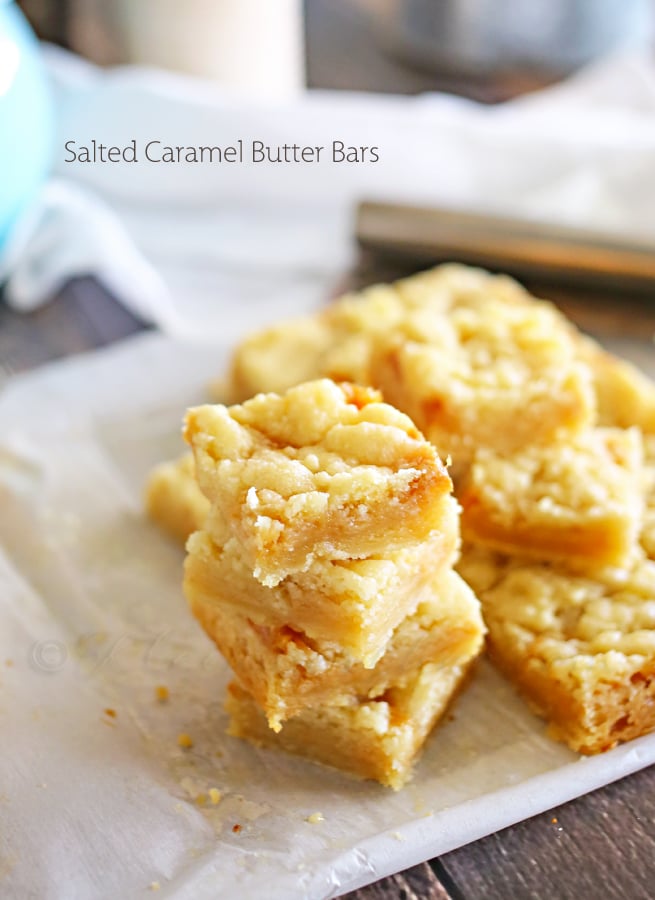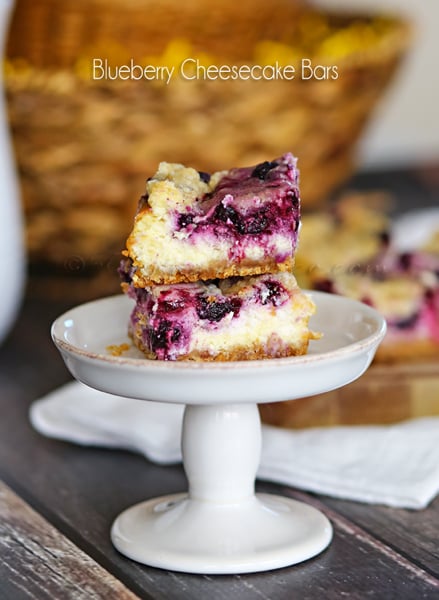 Wishing you all a delicious day!