Here they are 25 Handmade Christmas Ideas to decorate our homes in a budget.
 Bottle Brush Christmas Trees over at Styled Creative.
These are those little Christmas Trees that you can find at the store.
I didn't know I could change the color! AWESOME!
Click HERE for a tutorial!
This Winter Wonderland Christmas Ornament by Craftberry Bush is GORGEOUS!
DIY Snowman by Precious Sister Blog.
ADORABLE!
This next idea from  tealandlime.com is simply brilliant!
Make a tree skirt out of a 70″ round tablecloth.
Shut UP!
This Wonderland Christmas Ornament would be so much fun to make with my kids.
Image by Family Fun
DIY Felt Ball Garland.
I am in love with this project and the tutorial by My Sparkle is great!
Christmas Countdown by Ginger Snap Crafts.
Come on… I know you like it as much as I do.
Almond Bird Christmas Ornaments… Super CUTE!
And here you have a White Beauty by Love Sweet Love.
This Coffee Filter Wreath is perfectly made… very pretty!
Oh my goodness!
Pinecone Santa Ornaments.
I want to make these Christmas Ornaments so badly!
I love this idea of painting an ordinary Tree Branch to make a
whimsical Christmas Centerpiece.
Another colorful cool idea to do with old Christmas bulbs by Craftster.
Way to recycle!
Whimsical Pallet Christmas Tree by Fancy Frugal Life.
Be still my heart!
Adorable Advent Christmas Pillow by Home. Made by Hand with Love.
So sweet!
This is so cute.
Learn how to make a perfect Yarn Ball over at My Fabuless Life
and after make a Christmas Garland with them.
I love these Clothespin Nativity Ornaments
Sometimes less is more.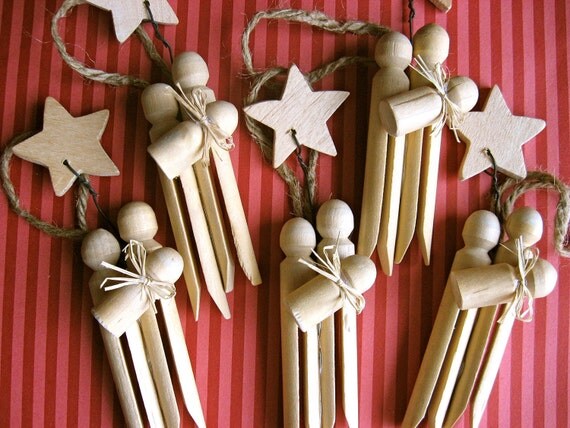 Such a cute Free Advent Calendar Printable from Inviting Printables.
All you need to do is add a cotton ball a day. When his beard is full, you know it's Christmas!
Another great tutorial!
Learn how to make New Ornaments Look Vintage over at Finding Home
Check out these little Christmas Trees made with folded paper.
Head over to Landee See, Landee Do for the full tutorial.
I love this idea for a Kids Craft Night.
Pull out the candy and make Gumdrop Christmas Garlands.
Sweet!
So FUN!
This is a Free Printable Paper Christmas Tree and Ornaments
from Party Planning Center. Print it and put it together.
Great family activity!
This DIY  Winter Snowball Wreath by Addicted to Decorating  is simply fabulous.
I love it!
Here are a few projects of my own.
Add a pocket to a pillowcase to leave messages for special occasions…
Such as wishing a child a Merry Christmas. So sweet!
Tutorial by The 36th AVENUE
Festive Christmas Hot Pads.
These would also make a great affordable Christmas Gift
since they came from the Dollar Store!
TUTORIAL by The 36th AVENUE
Cupcake Liners Christmas Trees by The 36th AVENUE
Make sure before you go to also check out 25 EXTRAORDINARY Christmas Ideas.
Christmas is such a special time of the year.
What a great way to celebrate this magical season creating together.
I hope you enjoy each of these projects and that you are inspired to create your own.
Thank You for the Visit My Friends!
Besos
Desirée