Halloween is one of my favorite times of the year. I love that it is getting cold enough to start baking again and making all types of spooky treats and foods. Today I want to share with you a bunch of awesome Monster Treats that would be simply perfect for school class parties or any Halloween Party that you may be planning to throw this year. These fantastic and creative recipes would also make the most awesome desserts EVER!
Some of these homemade halloween treat ideas have just a few ingredients and all of them are super easy to make. Your kids can help you put them together, look at them as crafts that you can actually eat! Part of what makes a holiday fun and memorable is making and doing little things that can turn the season into a special one. I can't wait for you to see all of these sweet but monstrous desserts.. So, enough with the talking my friends! Here they are!
One Minute Halloween Monster Treat
 I don't know how many times we have made these treats during Halloween Parties. The kids LOVE making their own. It's a craft that they can eat… It can't get any better than that!
Get the recipe HERE
 Gooey Monster Cookies 
These colorful cookies are so fun!
Get the recipe at Lil' Luna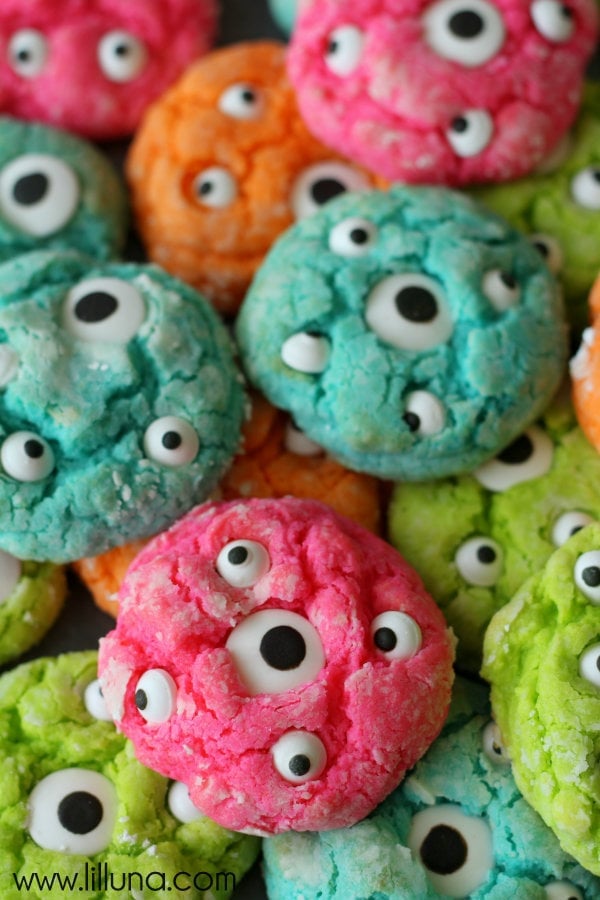 Monster Strawberry Cupcakes
Moist strawberry cupcakes with vanilla buttercream and crushed Oreo cookies… These strawberries have come alive!
Get the recipe at Yummy Crumble
Halloween Candy Bark 
Bittersweet chocolate is melted and topped with bite size pieces of all your favorite Halloween candies. This is what I call perfection!
Get the recipe at Just a Taste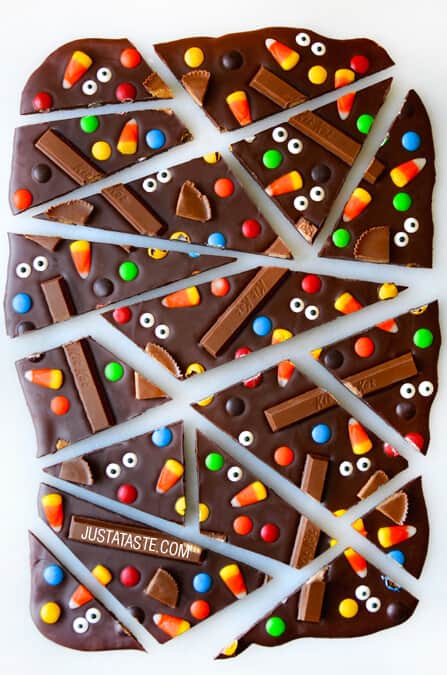 Monster Slime Popcorn
Popcorn lovers make sure to check out this sticky, gooey, green slime popcorn… My kids LOVE it!
Get the recipe at Mom Dot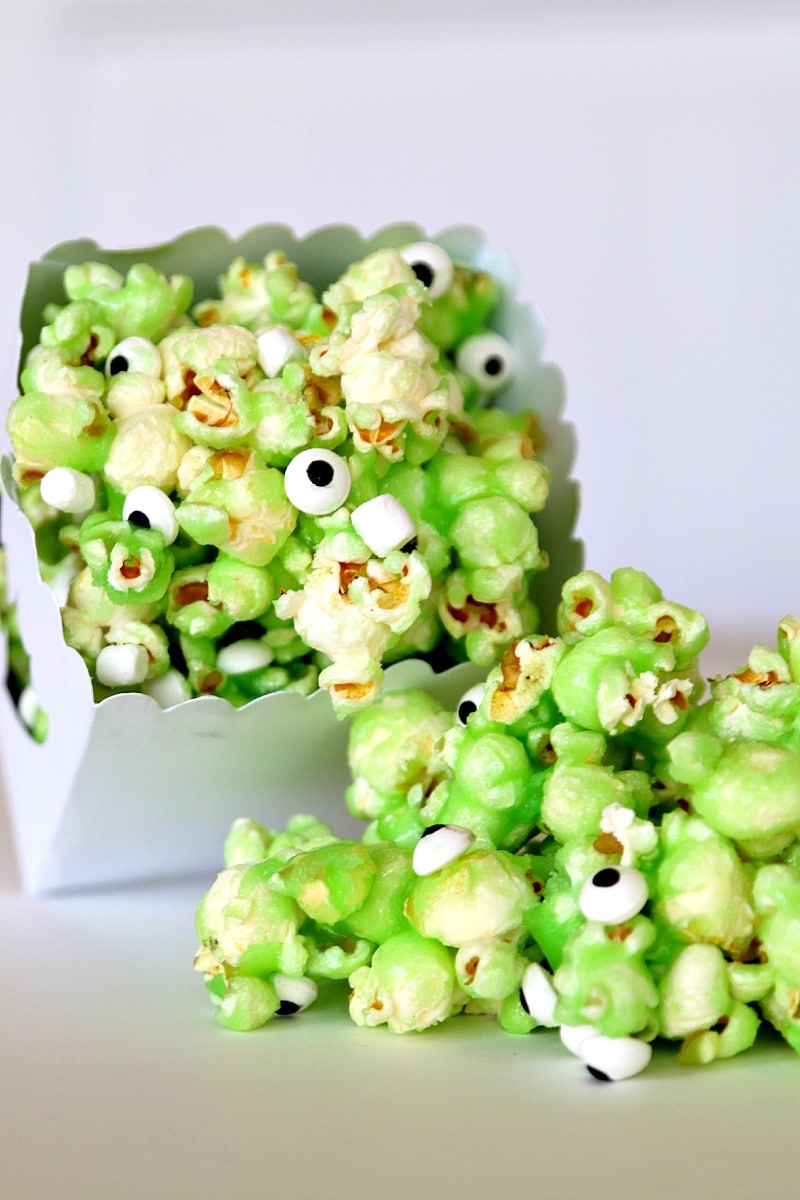 Monster Shish Kabob at A Beautiful Mess
Mummy Treats
My son's favorite… These are also perfect for school class parties!
How to make them HERE!
Monster Marshmallow Cupcakes 
Since Halloween is right around the corner put a spooky twist on the always delicious chocolate cupcake!
Get the recipe at Smart School House
Silly Apple Bites at Fork & Beans
They're fun. They're easy to make. And best of all these are healthy and good to eat!
Frozen Halloween Chocolate Bananas
Easy, fast, and sweet!
Click HERE
Candy Monster Toes
This idea is brilliant! I think it would be the perfect activity for Halloween and class parties!
Get the recipe at The Craft Patch
Boogie Eyes Monster Pretzels at Young At Mommy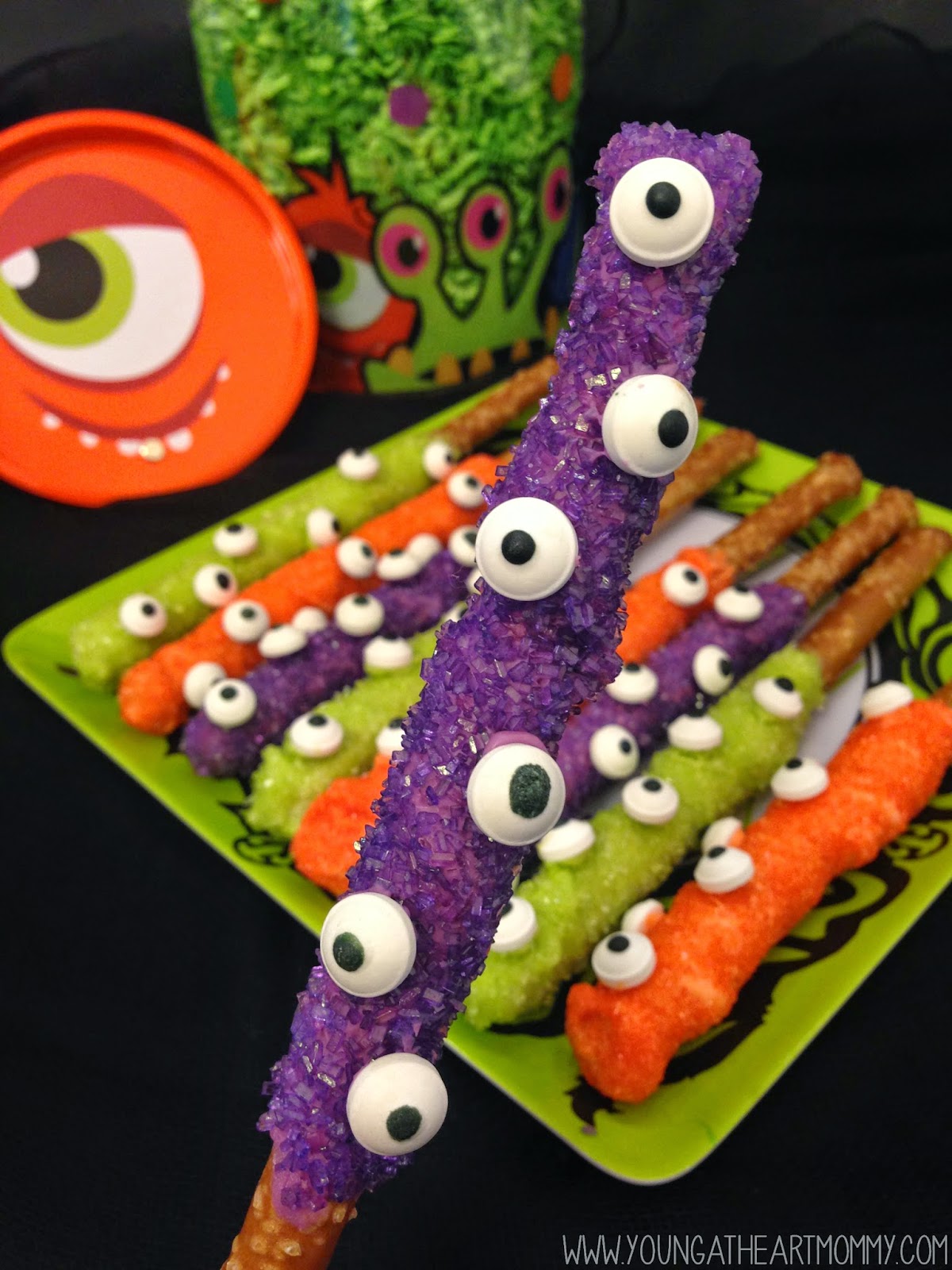 Monster Hot Chocolate 
This "white" Hot Chocolate is a spooktacular way to warm your family up this Halloween!
Get the recipe at Easy Peasy And Fun
Frankenstein Halloween Treats at The Melrose Family
Chocolate Pretzel Monsters at Close to Home
We love pretzels so this would be the perfect treat for my family… Yum!
They are the coolest treats EVER… Right?!
If you are planning to have a party I have the perfect free printables to go with any of these desserts!
Click HERE to check them out and print!
Here are some other fun Halloween ideas that we love!
Halloween Recipes 
These Halloween Treat Ideas are clever, fun, spooky, delicious, and over all spooktacular!
Click HERE
DIY Halloween Costumes for KIDS!
 As any other mom out there I'm starting to look for awesome Halloween Costumes for Kids. Handmade Costumes are always my favorite. They are so fun and kids can rock them like no one else. I think you are going to love these ideas… They are easy, affordable and super cute! Enjoy!
Click HERE
Ready to see some awesome Halloween Hacks and DIY Halloween Ideas? I'm amazed of how easy and clever these Halloween projects are! These affordable ideas will be fun to make, display, and share during the entire Halloween Season!
Click HERE
Hey! Thank YOU so much for being awesome and hanging out with me today!
XO
Desirée