Hello, 36th Avenue friends! I'm so happy to be here today, sharing one of my all-time FAVORITE sandwiches with you!! I am a true grilled cheese lover, and not only is it one of my favorite things to make at home, but it's one of my favorite things to order at a restaurant!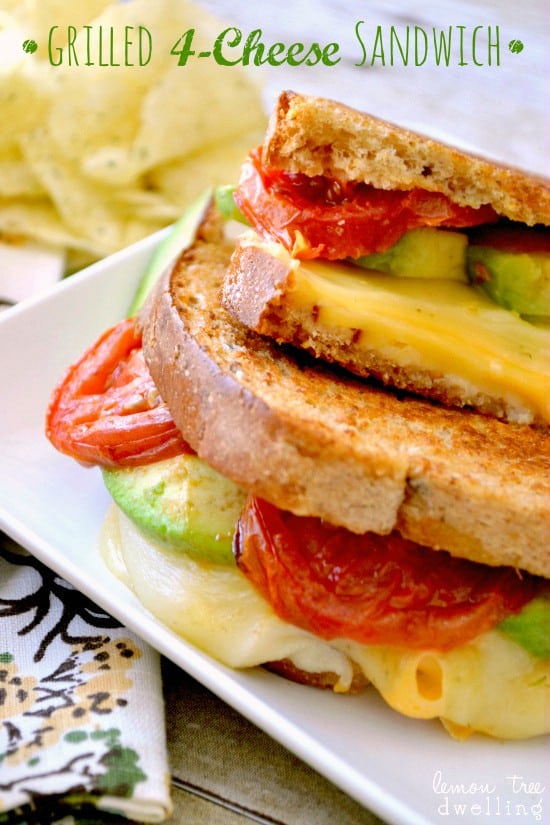 I know – you might be wondering who orders grilled cheese at a restaurant – but they really know how to do it up!! Restaurants load their grilled cheese with all sorts of goodness…and this Grilled 4-Cheese Sandwich was inspired by one of the best I've ever had!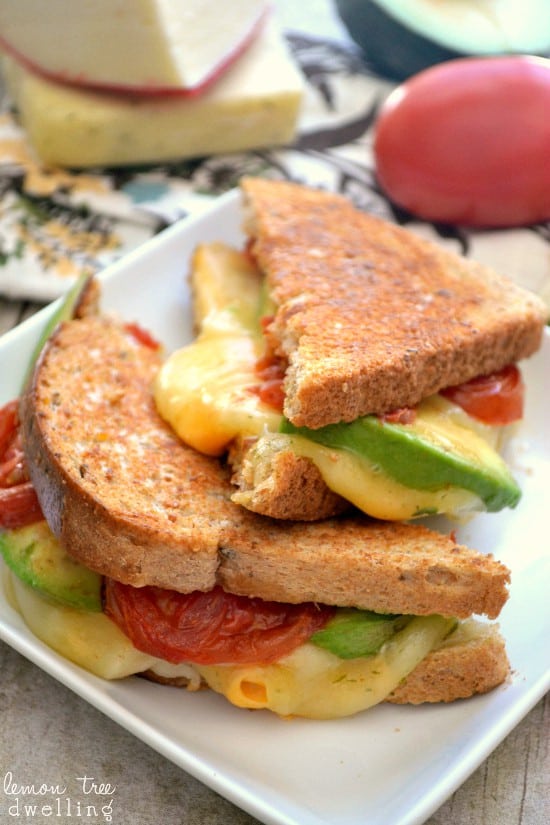 Okay, so what do I love about grilled cheese? I love that it's easy to make and that I pretty much ALWAYS have the ingredients for it! I love that there are endless variations to it, and that you can make it taste completely different just by switching up the ingredients! I love that it's something my entire family will eat…and enjoy! And I love that it's delicious year-round! In the winter I pair it with roasted tomato-red pepper soup, and in the summer I pair it with a salad or fresh fruit. Either way, it's a perfect option for lunch or dinner.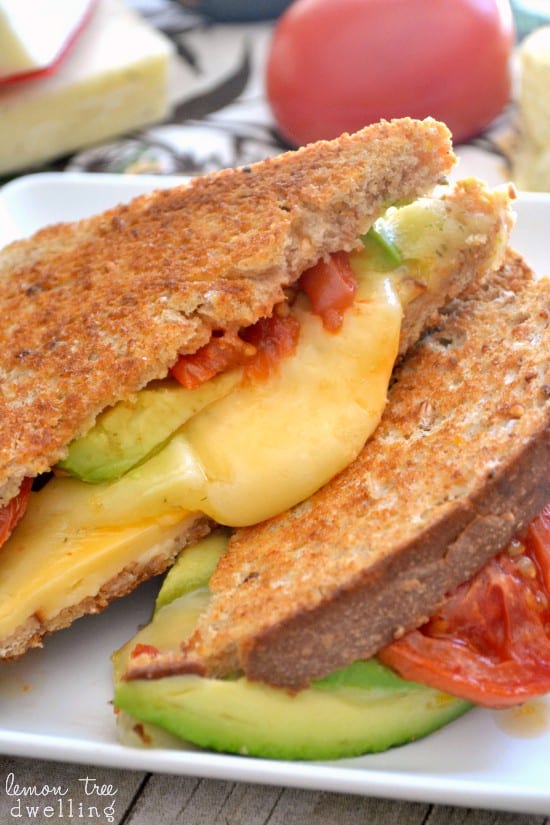 What makes this sandwich better than any I have ever tasted is the CHEESE! (What can I say….I'm from Wisconsin!) Clearly, from the name of it, this sandwich has not one, but FOUR different kinds of cheese! And they pair together perfectly, each bringing a little something different to the table. The gouda brings a delicious smokiness, the dill havarti brings a pop or flavor, the fontina is rich and creamy, and the American melts amazingly well. Add sliced avocado (my favorite) and oven-roasted tomatoes drizzled with olive oil… and you have yourself one AMAZING sandwich!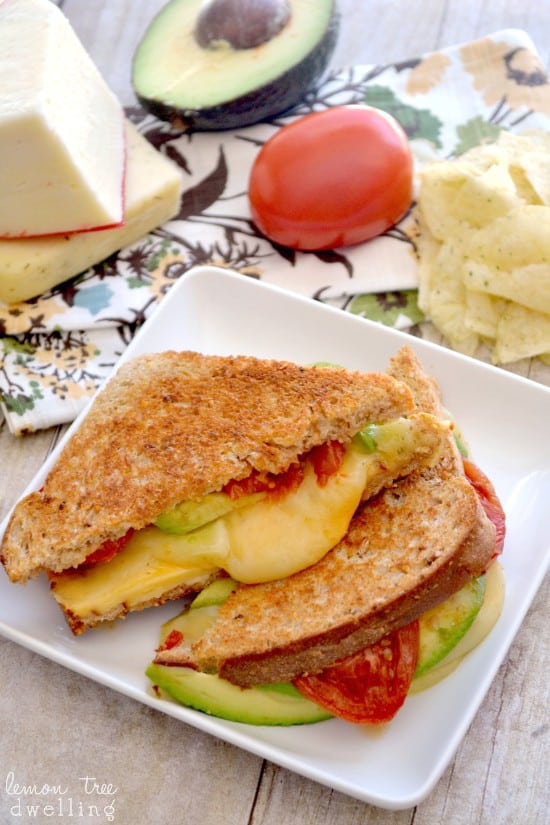 As for the bread, I opted for one of our favorite whole grain sandwich breads….but you can use whatever kind you like best. The only other thing you need is a little butter or olive oil to make the bread nice and crispy, and you're all set! Restaurant style grilled cheese at home! I hope you and your family enjoy this recipe as much as we do. I promise it will not disappoint!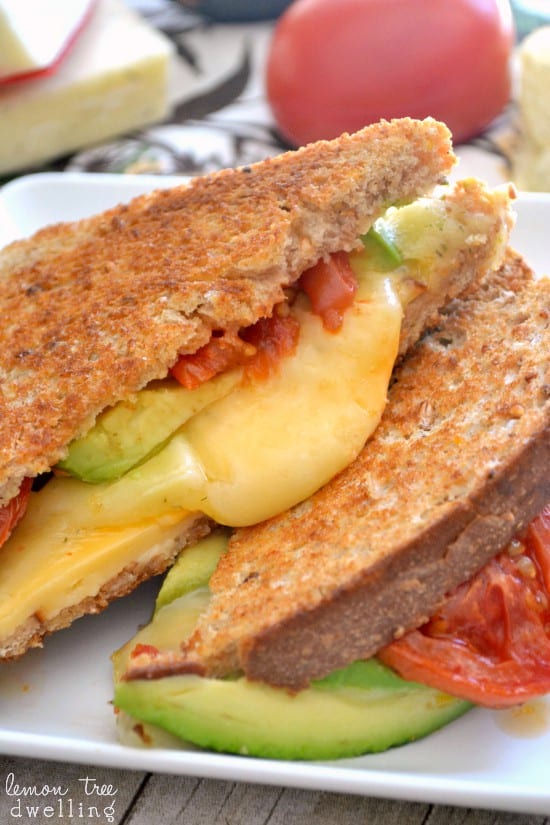 Grilled 4-Cheese Sandwich
Grilled Four Cheese Sandwich
Author:
Cathy @Lemon Tree Dwelling
Ingredients
2 slices whole grain bread
1 tsp. butter
Smoked Gouda cheese
Dill Havarti cheese
Fontina cheese American cheese
1 Roma tomato, sliced and oven roasted
½ avocado, sliced dash of dried dill
Instructions
Drizzle sliced Roma tomato with olive oil and roast in 400 degree oven until blistered.
Assemble sandwich by layering cheeses (to taste), avocado slices, dried dill, and bread.
Melt ½ tsp. butter on griddle and grill sandwich over medium heat until bread is golden brown and cheese is melted.
Add roasted tomatoes before serving.
Looking for some delicious sides to go with your sandwich?
Click on the pictures to get these other yummy recipes!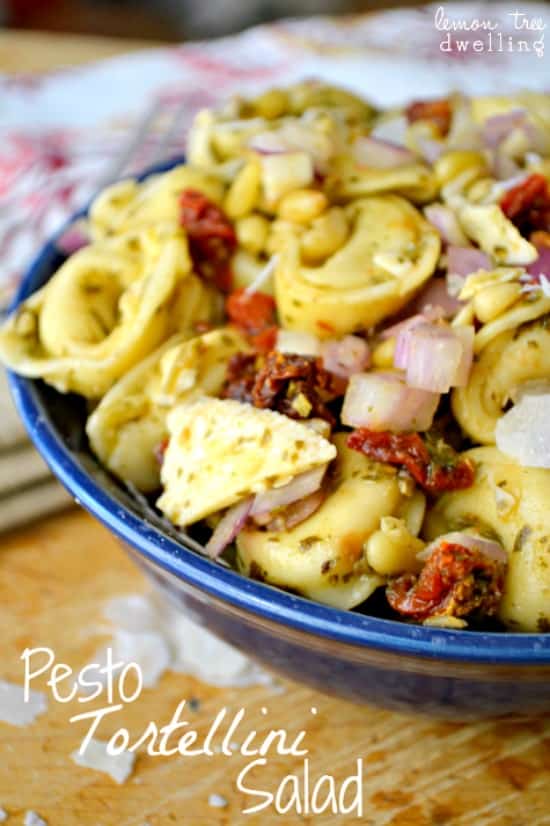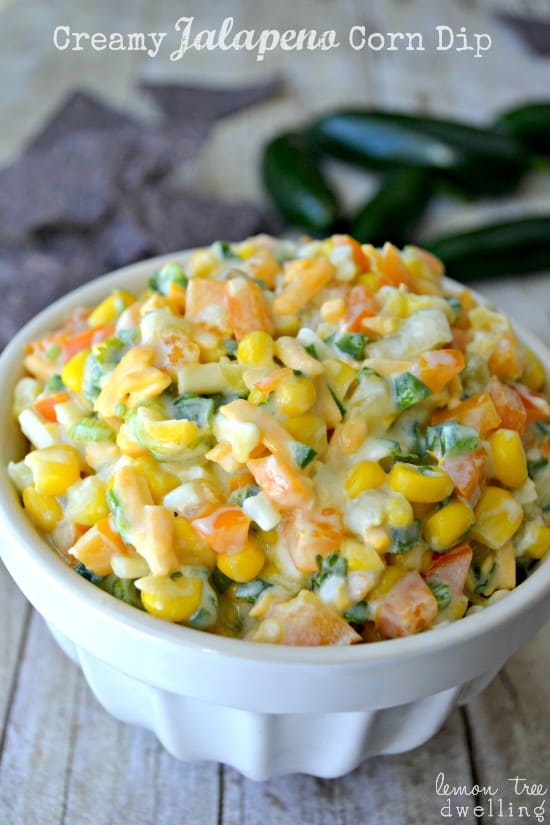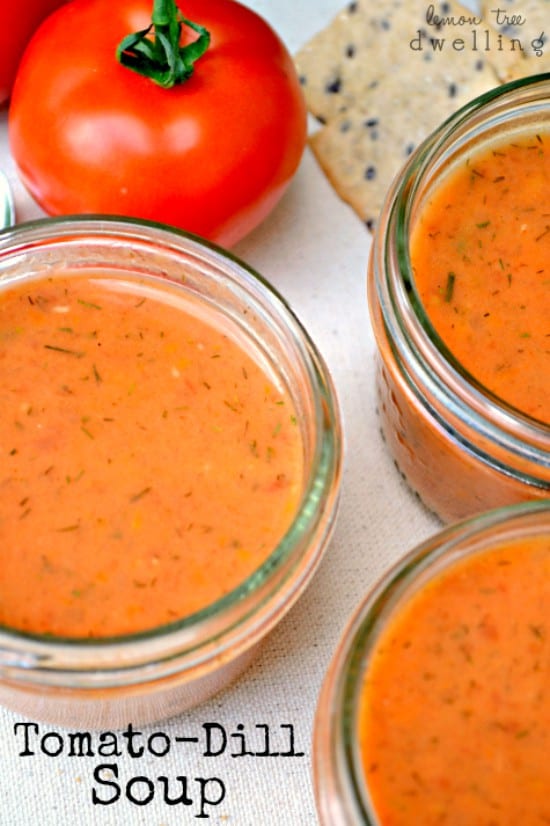 They look delicious! 
Make sure to follow Cathy on…