Our entire house little by little is becoming brighter and brighter.
Sunshine is entering through every window and I can tell you how much I am loving it!
Today I am visiting Tatertots & Jello and sharing with Jen and her readers the tutorial of the pillow and little bunny that I used as part of our Easter decor.
A few weeks ago I found a Hall Tree that fit perfectly in front of the small wall that you see right when you enter our home.
I also found these super cute fabrics over at a local fabric store and I made pillows with it.
Another little thing I did was to design the vinyl stencil that I used to make this number sign.
I didn't like the original orange oak look of the Hall Tree so I painted it white and we love it now.
After I put everything together our entry way was done for around $125.
Take a look!
I know you are going to ask me where the stripe yellow bag came from…
I found it a Wal-Mart for $10.00.
If you visit my home now my entry does not look like this anymore.
It is Easter Season so I have added my Spring Wreath,  the pillow and the  little bunny that I am sharing over at Tatertos & Jello. 
I also made an Easter Egg Garland to finish the festive look.
Happy, simple and bright!
We love it!
And we believe our little Lola loves this area too.
Anyways, I hope you enjoy my Spring entry way tour.
I would love for you to visit with me over at Tatertos & Jello and check out the pillow and bunny tutorial.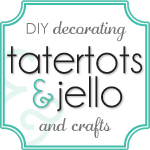 I know I say this every month and I will say it over and over again.
I adore Jen and every time I'm sharing a new project over at her blog the words that come to my mind are…
Shut The Front Door… I am on Tatertots & Jello!
No WAY!
Now, it is your turn…
SHOW ME EXTRAORDINARY!
To link up your project click HERE or scroll down to get to the party.
If you like it here I would love for you to Subscribe to The 36th Avenue.… and stay in touch with me!
Happy Thursday!
♥
Desirée.
I am sharing my entryway over at these EXTRAORDINARY Parties!