Hello my 36th Avenue friends. It's Gina from Kleinworth & Co & I'm so excited to be here today sharing one of my favorite little goodies, Cannoli Sugar Cookie Cups.
I absolutely love those weekends when we can have a little family time & take a stroll through downtown & visit all the shops & take in the beauty of the lake. If things work out I get to stop in to the pastry shop & pick up some treats. I always grab some cannolis & sometimes some eclairs too. I like to mix it up with a little bit of Italian & French when it comes to my desserts & I love that I can pick them all up in the same shop. I definitely walk out a happy girl.
So it had been a while since we had visited down there & I really wanted a cannoli. So I decided to change things up a little & use some of my sugar cookie cups I make in bulk just for occasions such as this & spin the classic cannoli into something different. Let me tell you- I'm so glad I did. These were so delicious. The only thing I would change is that I would have made more. They definitely ran out too quick.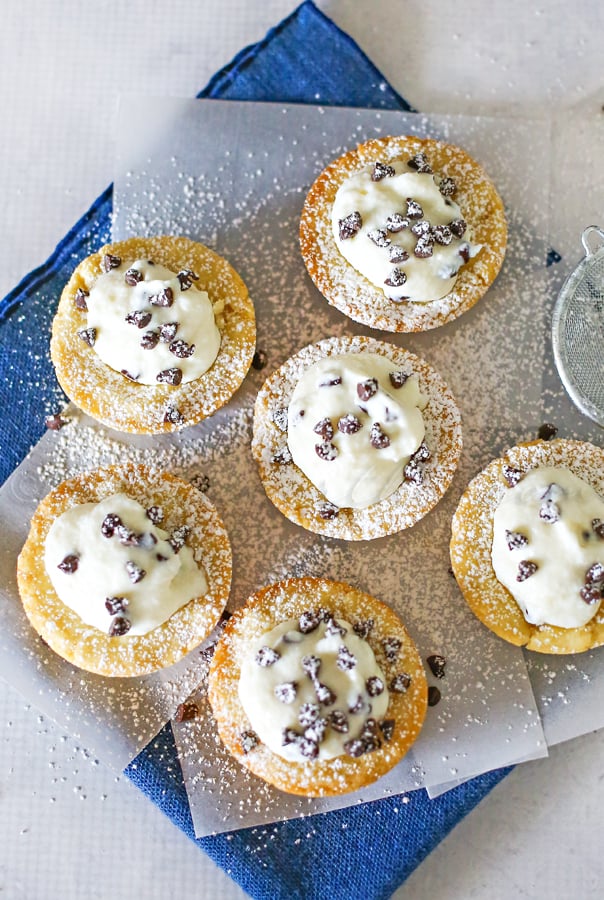 So if you love a good cannoli & sugar cookies, you have to give this twist a try.
You will be so happy you did!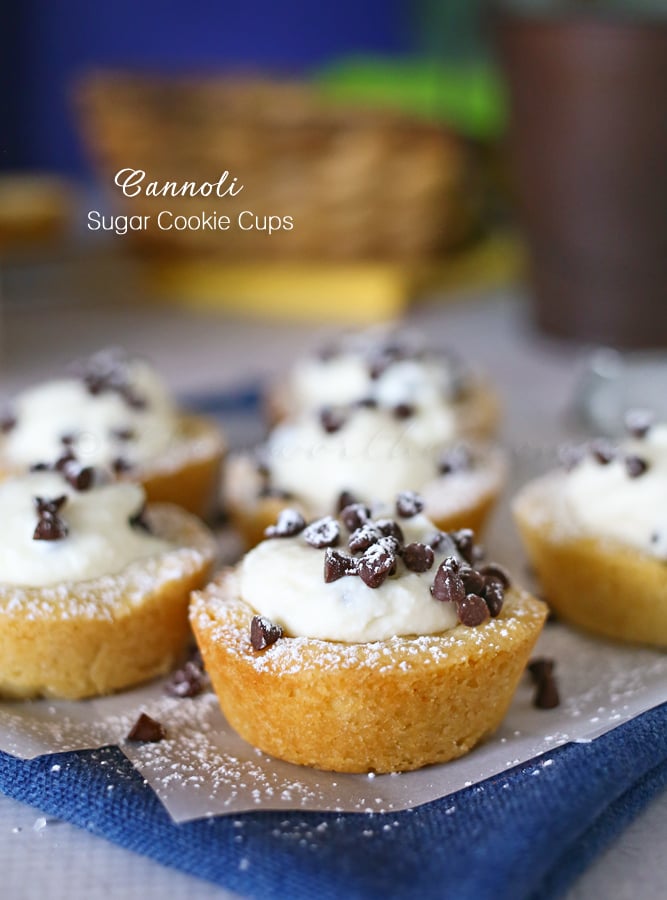 Cannoli Sugar Cookie Cups
Ingredients
Sugar Cookie Cups
3 cups all-purpose flour (spooned in & leveled- not scooped)
1 tsp baking powder
1 cup butter
1 cup granulated sugar
1 large egg
1 tsp vanilla extract
Filling
2 cups ricotta cheese
3 tbsp whipped topping
½ cup confectioners sugar
1 tsp vanilla extract
¼ cup mini chocolate chips
*additional confectioners sugar for dusting
Instructions
Cookies
In a small bowl whisk together flour & baking powder – set aside
In mixer bowl beat butter until soft
Add sugar & mix well
Add egg- mix again
Add vanilla
Add flour & mix until dough begins to clump together
Roll dough into a ball & wrap with plastic wrap- refrigerate 1 hour
Once dough has chilled, preheat oven to 350 degrees
Pull off pieces of dough & roll into balls- then press into the wells of your muffin tin pan making the cup shape
Bake 12-15 minutes & allow to cool in pan before removing
To remove you can slide a butter knife along the side- they should pop right out
Filling
Whisk ricotta in large bowl until smooth
Add in confectioners sugar & vanilla & whisk until combined
Fold in whipped topping & chocolate chips
Do not assemble until ready to serve as the filling will start to soften the cookie cup.
Once ready to serve spoon about a tablespoon of your filling into the cookie cup
Dust with confectioners sugar
Enjoy
Looking for more great dessert ideas with cookie cups?