Kitchen organization is always a priority in our home since it is one of those rooms that we are always using. Do you ever wonder how to keep your kitchen clean? Well, here are some ideas perfect to help us with that!
So today I'm sharing with you some pretty CLEVER Ideas that I have found for the kitchen.  Enjoy!
1
This first idea is GENIUS! Why didn't I think about this?
Transform a dresser into a kitchen island!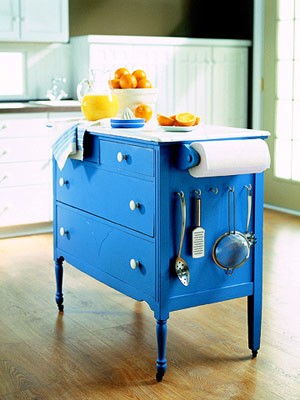 2
Amy from The Idea Room added a couple of finial feet to the base of her bathroom cabinets. This same idea can be used to make your kitchen cabinets look more custom made.
3
Make reusable "paper" towels.
WOW!
4
This is just awesome to me. I hate looking for lids all over the place.
5
Remove a drawer and  replace it with a paper towel roll holder.
Ta-tan! 
  picture source
6
I am doing this one for my kitchen! Use regular handles as towel holders.
picture source
7
 Pancake/crepe mix in a recycled ketchup bottle.
Brilliant!
8
What about using pots for storing your silverware, easy, practical and cute!
picture source
9
Make a small recycling center in your kitchen.
Nice!
10
Ready for dinner?
You could make this project in less than 10 minutes!
picture source
11
Non-slip Dish Towel.
I love this idea since my towels are almost all day on the floor because of Mimi…
She wears them as hats and scarves!
12
Do you dare?
Your kids will love you!
Paint your old fridge with chalkboard paint!
13
Another fun and clever idea!
"Waste Not" basket for fridge.
14
I love these conversion peel and stick decals!
Find it HERE
15
One more!
If you love to bake, you are going to  love this idea by Infarrantly Creative!
source
16
Make a drawer that wraps around the sink.
WOW!
So clever… huh!
Also check out how to clean a porcelain sink
…and take a look at how to organize and keep a fridge clean here.
Before you go check out our Kitchen Makeover you won't believe what paint can do for you.
Take a tour here.
Thank you for visiting my friends!
Besos
Desiree