This Chicken Pasta with Spinach & Artichoke is amazing! It has all the flavors of the spinach artichoke dip you love….without all the heavy cream! A perfect springtime lunch or dinner recipe…and oh so simple (so you have more time to enjoy the beautiful warm weather!
A deliciously light pasta topped with grilled chicken, artichokes, fresh spinach, and Parmesan cheese.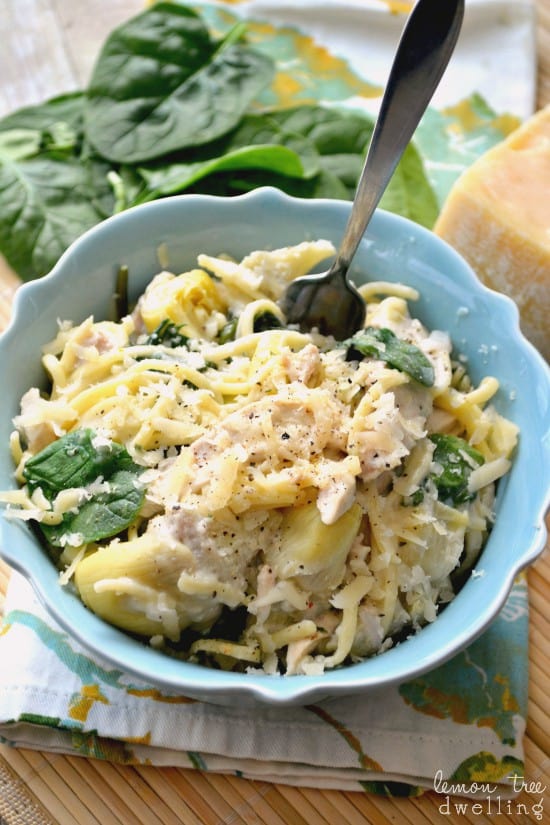 Yes….the weather around here has FINALLY started to warm up, despite our concerns that spring might never make an appearance. See, I live in Wisconsin, where winter lasts 5-6 months out of the year. And by winter, I mean BITTER COLD! As you might imagine, after 5-6 months of hibernating indoors, we are ready for spring and all the goodness it brings!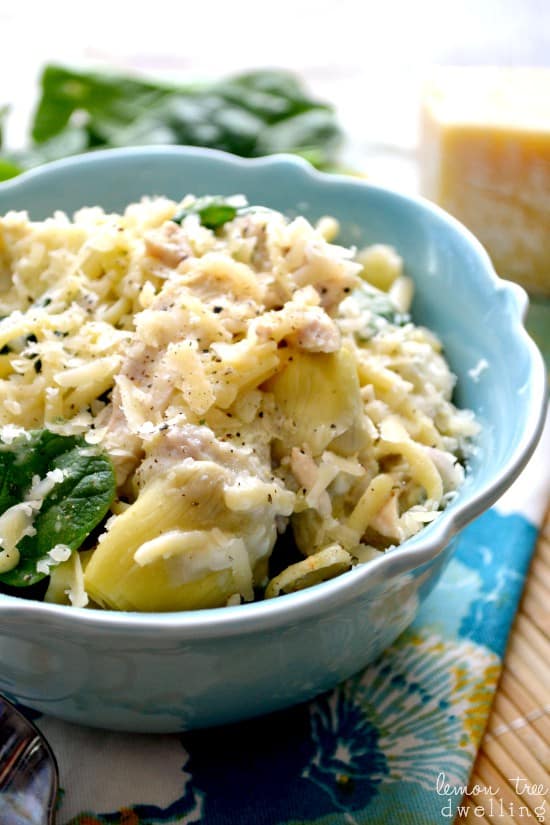 One of my very favorite parts of spring? The FOOD, of course! Everything gets a little lighter and brighter in spring…..and simple, fresh flavors take center stage. This dish is a perfect example! Seasoned with just garlic, lemon juice, sea salt, and fresh ground pepper, it tastes just like spring feels: refreshing!!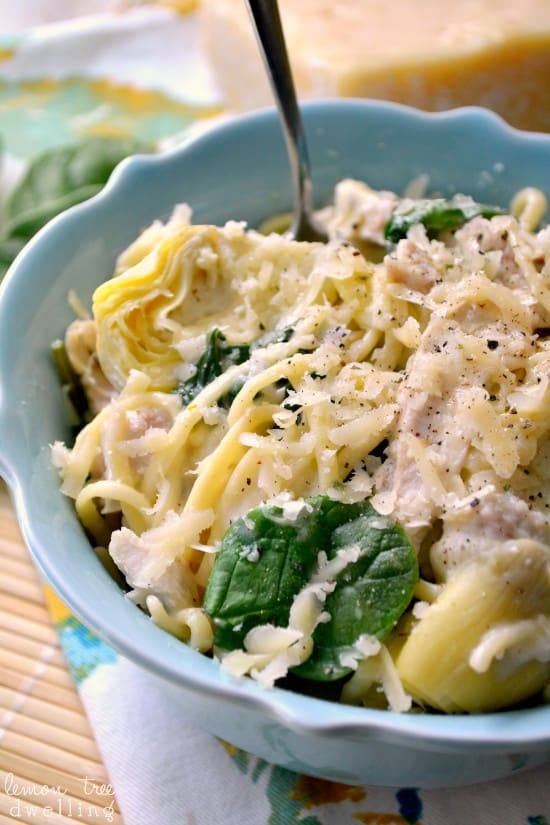 Of course, no dish is the same without cheese (I'm from Wisconsin, remember?) so I added just the right amount of fresh Parmesan cheese to give it an extra kick of flavor. And….voila! The perfect spring pasta dish, in no time at all! Happy spring, my friends! Enjoy!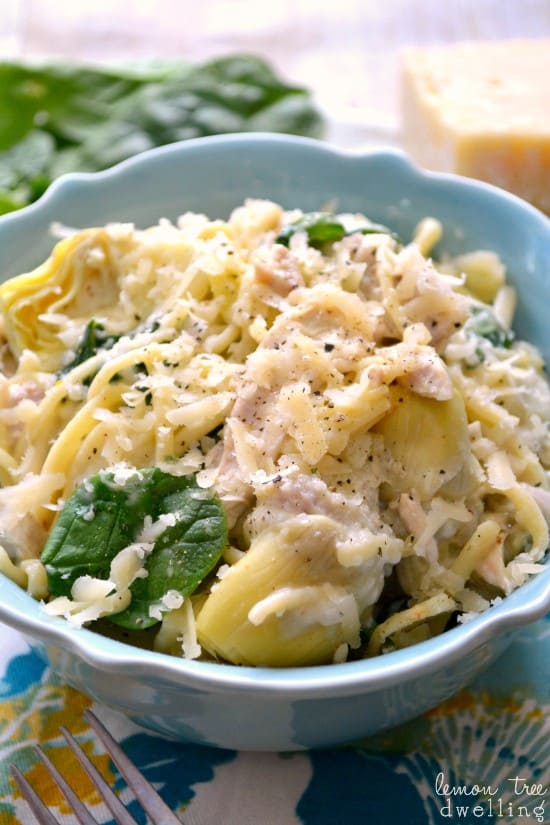 Chicken Pasta with Spinach and Artichoke
Author:
Cathy @Lemon Tree Dwelling
Ingredients
1 lb. linguine
12 oz. cooked, sliced chicken breast (delicious when marinated in a lemon-pepper marinade)
1 (14 oz.) can artichoke hearts, quartered
4 oz. baby spinach
½ c. plain Greek yogurt
2 Tbsp. butter
½ c. chopped red onion
2-3 cloves garlic, minced
2 Tbsp. flour
1 tsp. sea salt
½ tsp. fresh ground pepper
1½ c. milk
1½ c. fresh grated Parmesan cheese 1 large lemon
Instructions
Cook noodles according to package instructions. While noodles are cooking, prepare sauce (directions below).
Drain noodles; stir in Greek yogurt, chicken breast, artichoke hearts, and spinach.
Combine pasta with sauce and season with additional salt, pepper, Parmesan cheese, and fresh lemon juice to taste.
Sauce: Melt butter in a small saucepan.
Stir in onions and garlic and saute 2 minutes.
Stir in flour, salt, and pepper.
Stir in milk.
Cook, stirring continuously, over medium heat until thickened and bubbly.
Stir in Parmesan cheese.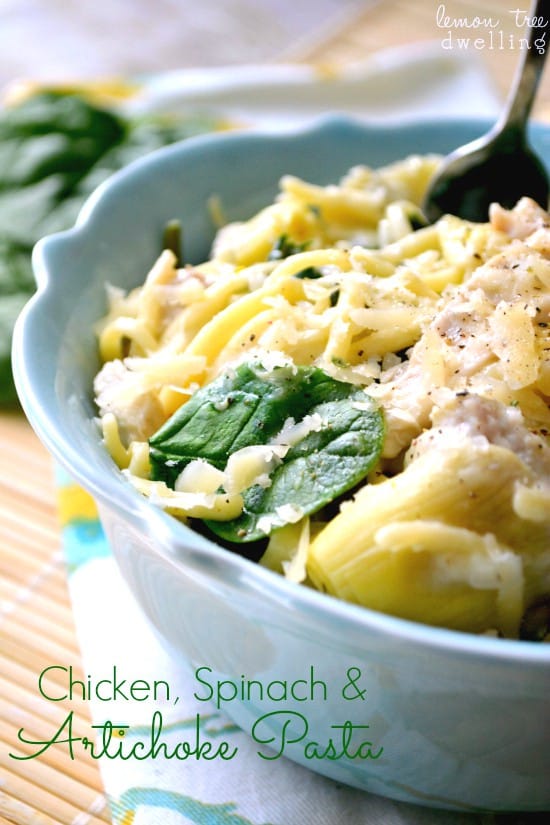 Thanks so much for having me here today!
If you have a minute, I'd love for you to stop over at Lemon Tree Dwelling and say hello! And…If you're looking for more delicious spring recipes, here are a few to tempt you!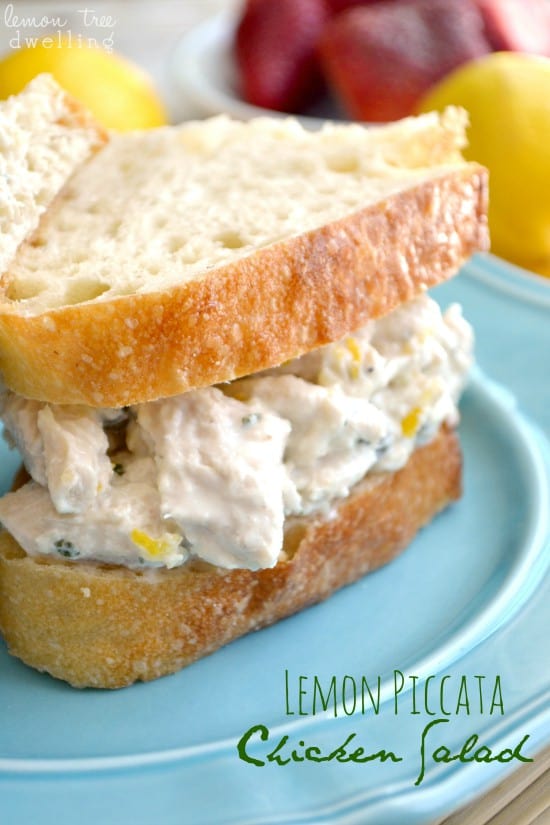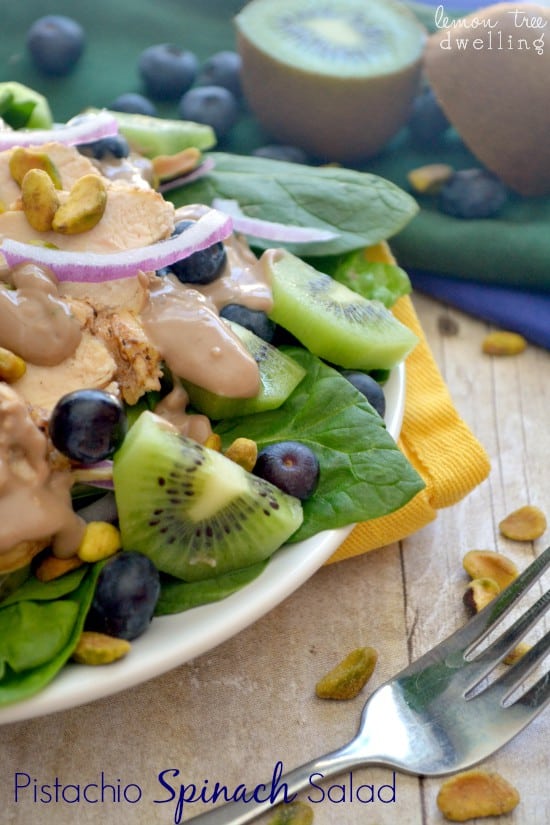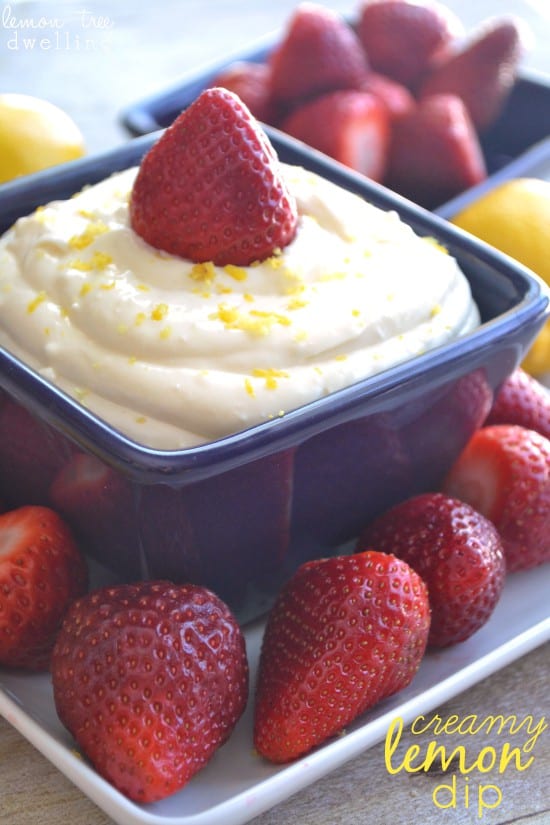 Yum!
 Also make sure to keep in touch and follow Cathy on