People will be climbing over each other to get to this awesome snack. Easy Cheeseburger Egg Rolls served with a simple sauce on a side.
This is one appetizer that your whole family will run to get to first. And if you dare to serve it at a party, people will start climbing over each other and tripping others to make sure they get some of these tasty egg rolls. They are pretty easy to make but make sure you make enough, because they will disappear.
I was first introduced to Cheeseburger Egg Rolls at the restaurant I used to work in years ago. We got it as a special for the football season but I wasn't sure about how popular it would be. I was a little thrown off by something inside an egg roll that is not the traditional cabbage and meat mixture. Cheeseburger in an egg roll? Hmmm…
Little did I know, it exploded off the menu! It even got so popular with the staff that waiters started ordering it as their lunch and cooks would "make a mistake" once in a while and drop an extra portion in a fryer. We all knew that the "oops" wasn't an "oops" at all, but we didn't care because we all got to have some.
Well, I recreated this tasty snack at home and it is a hundred times better. For one, they don't come frozen in a bag. These egg rolls are homemade, fresh and super tasty. Homemade is always better, so I know you'll love it.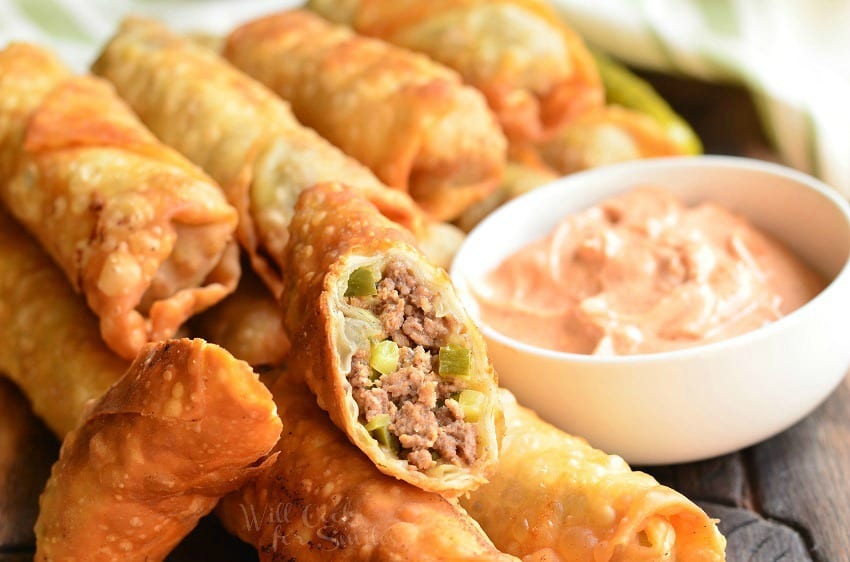 Ingredients
Egg Rolls:
1 lb ground beef
½ medium yellow onion, minced
1 Tbsp vegetable oil for cooking
Salt and fresh cracked black pepper
5 slices American cheese
½ cup diced pickles
13-14 egg roll wrappers
1 egg white
Oil for frying
Sauce:
¼ cup mayo
1 Tbsp tomato paste
1 garlic clove, pressed
1 tsp paprika
Salt and fresh cracked black pepper
Instructions
Preheat a medium cooking pan over medium heat. Add a tablespoon of oil and minced onion. Saute until onion is translucent.
Add ground beef to the pan and break it up as much as possible. Season with some salt and pepper, cover and cook until meat starts to brown. Stir well and make sure to keep breaking up all the meat clumps as it cooks. Drain off all the juices and place cooked meat into a mixing bowl.
Break up cheese and add it to the bowl. Mix until all the cheese is melted and evenly incorporated. Stir in pickles.
Heat up oil to about 350 degrees as you roll the egg rolls.
Gently whisk egg while and set it close to you.
To roll the egg rolls: place egg roll wrapper on a diamond. Spread about 2 tablespoons of cheeseburger filling in a line, leaving about an inch on each side. Gently and carefully, fold the corner that's closest to you over the cheeseburger mixture, and tuck under the filling. Fold both side corners toward center of wrapper, it will start to look like an open envelope. Dip your fingers in egg white and run it along the edges of the wrapper to seal better. Carefully roll up the egg roll.
Fry egg rolls in batches until golden brown, turning once the bottom side turns golden.
Whisk all ingredients for the sauce until completely incorporated. Serve with egg rolls.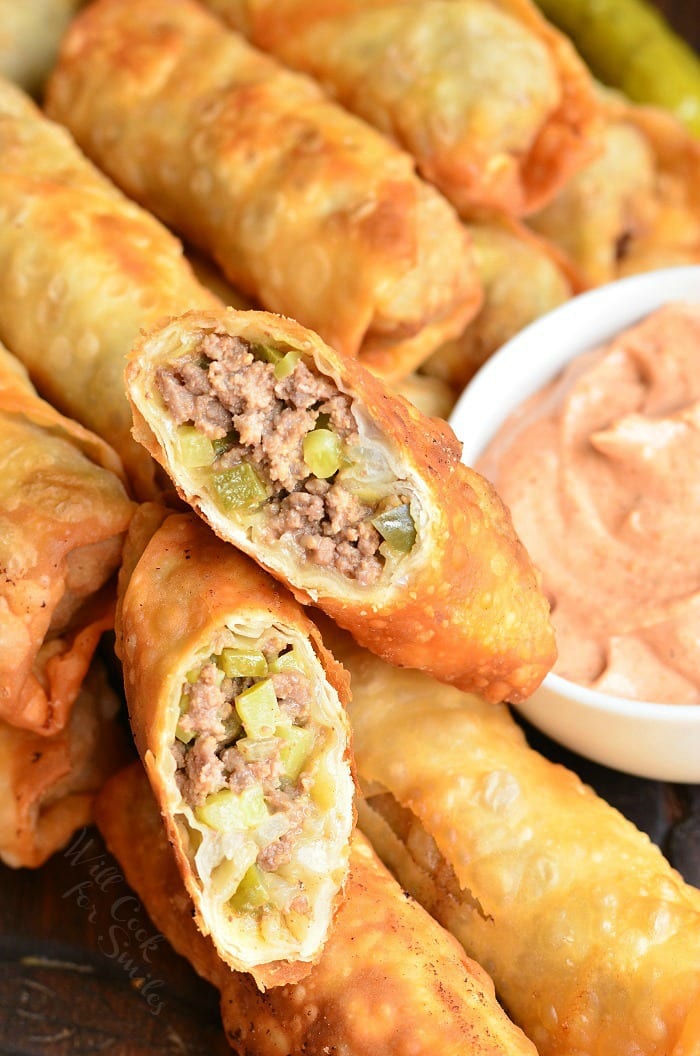 Some More Pumpkin Recipes From Me: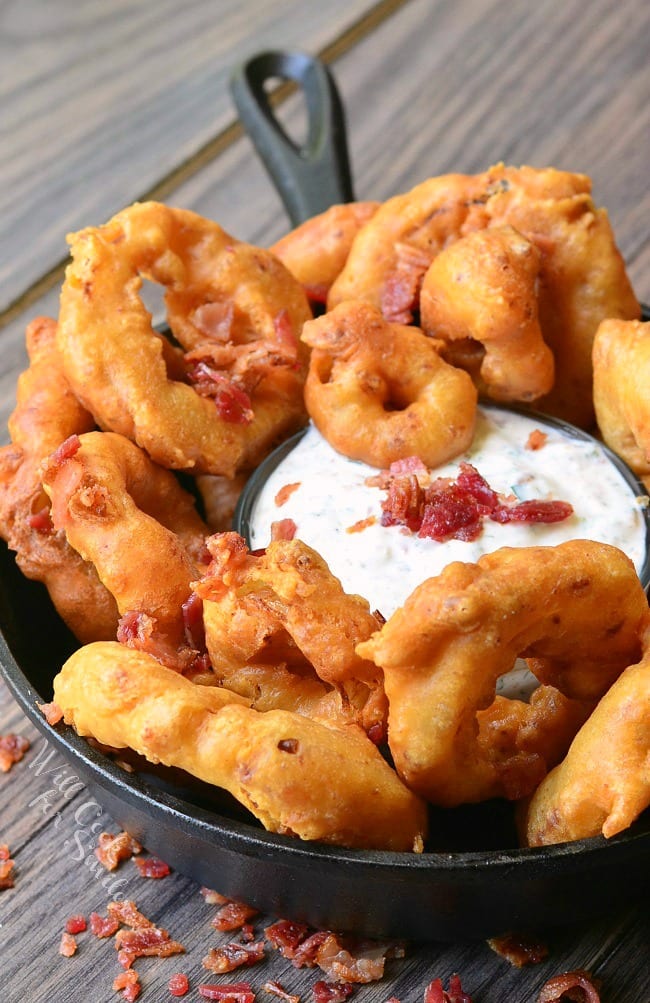 Bacon Onion Rings with Bacon Ranch Dipping Sauce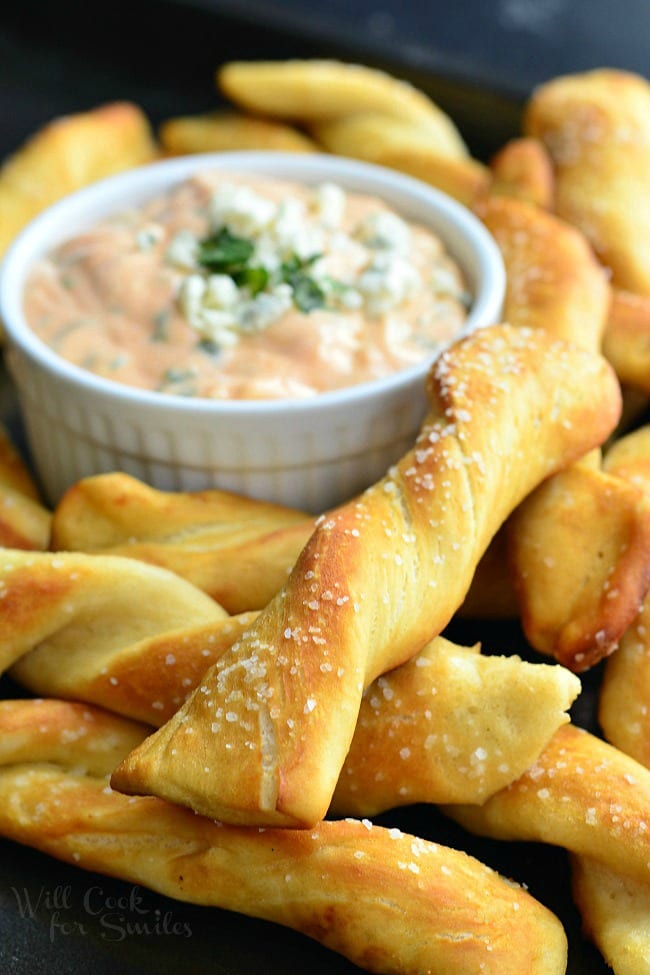 Homemade Soft Pretzel Twists with Creamy Buffalo Sauce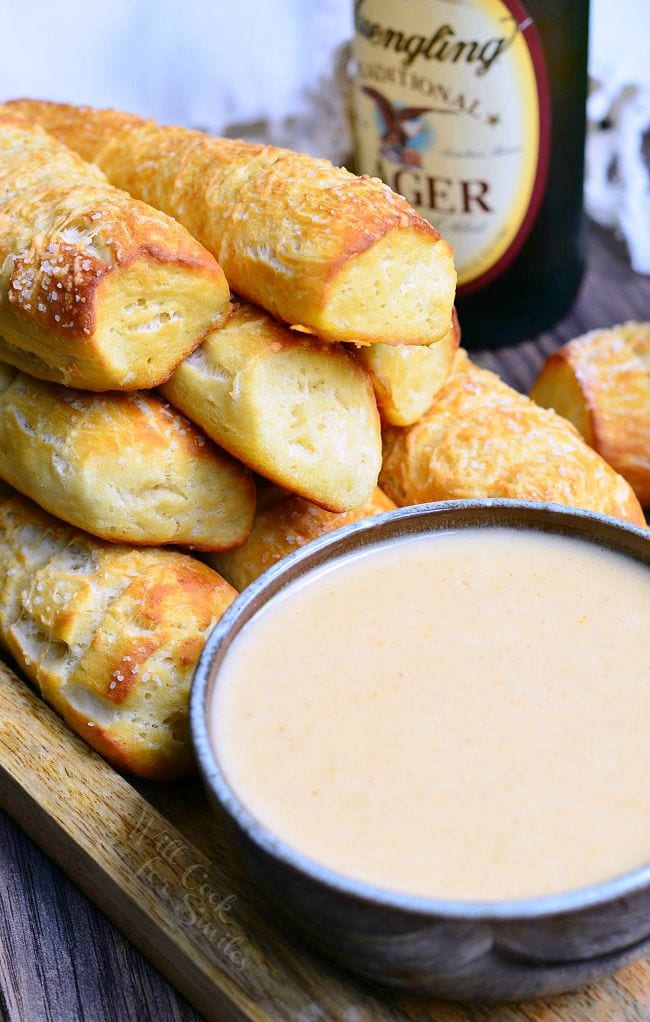 Homemade Pretzels with Beer Cheese Sauce
Also check out Lyuba's new book… It's delicious!
Find It HERE
Make Sure To Come By And See Me On My Site Or Any Of My Social Channels!