Hi there 36th Avenue fans! It's Gina from Kleinwoth & Co & I'm so excited to be back today to share with you one of my favorite spring recipes- Candied Lemon Slices. You see, last summer we picked up a dwarf lemon tree. We planted it in a large barrel because we live in north Idaho & there is no way a citrus tree would survive here through all seasons. It was great to have all summer long & once we rolled it into the dining room for the winter it seems to be happier than ever. I absolutely LOVE having fresh lemons all year. In fact, we have so many that I often find myself wondering what to do with them all. But fortunately it's easy to make them into a beautiful candied garnish. Oh & did I mention- they are so delicious too? Yep- I absolutely swoon over these & if you love lemons, you will too.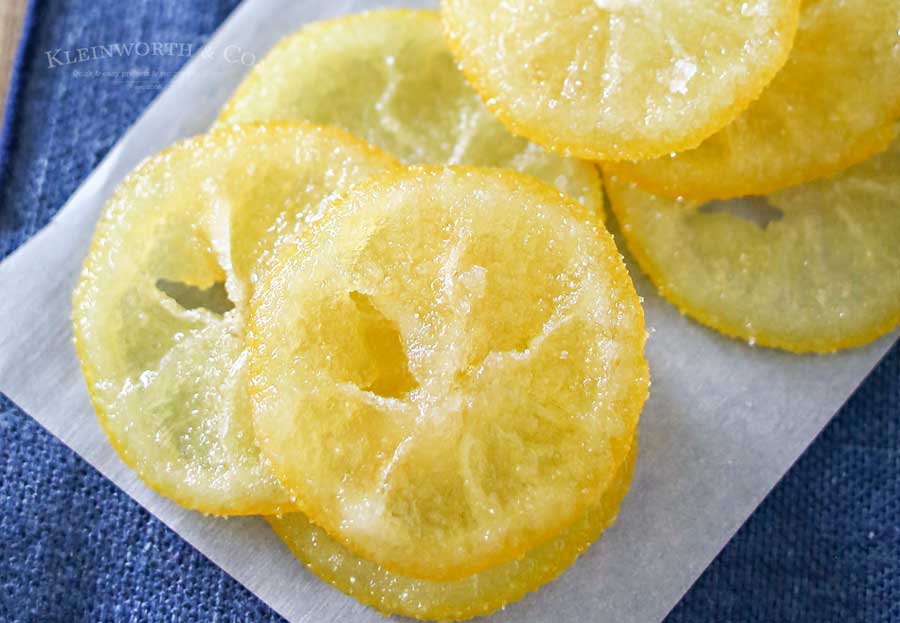 I love saving the lemon simple syrup afterwards & straining it into a mason jar. It's a great addition when making beverages like iced tea & gives a great flavor boost in mocktails. I even add some when making quick cook breads & glazes, then use the candied lemons on top for garnish. They come out so pretty & are just perfect for spring brunch, Easter festivities or a Mother's Day breakfast. So versatile & everyone just raves over them.
Candied Lemon Slices
Simple candied citrus made for garnishing cupcakes, breakfast breads & more refreshing lemon treats.
Ingredients
1 ripe lemon
1 cup granulated sugar + more for sprinkling later
¾ cup water
Instructions
Slice lemon into very thin wheels & set aside
Combine water & sugar in a small saucepan & cook over med heat, stirring until sugar has dissolved & it's simmering
Place lemon slices in pan & simmer about 15 minutes or until rinds are soft & translucent
Remove & lay on parchment paper, sprinkle with additional sugar
Let sit at room temperature until mostly dry before using (they will remain sticky)
Store in refrigerator for several days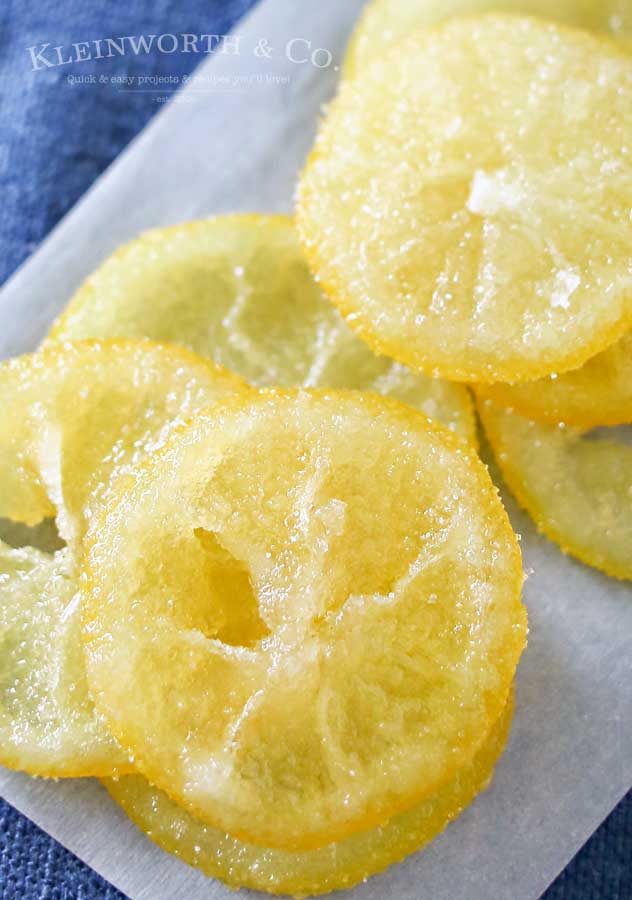 These are definitely the perfect topping for all your spring recipes!
Thanks so much for spending some time with me today! I love being here with you all!
Looking for more refreshing spring recipes! Here are some of my favorites!