This Baked Oatmeal Treat Recipe by Lemon Tree Dwelling is a hearty and delicious, filled with oats recipe. Perfect for breakfast or everyday snacks!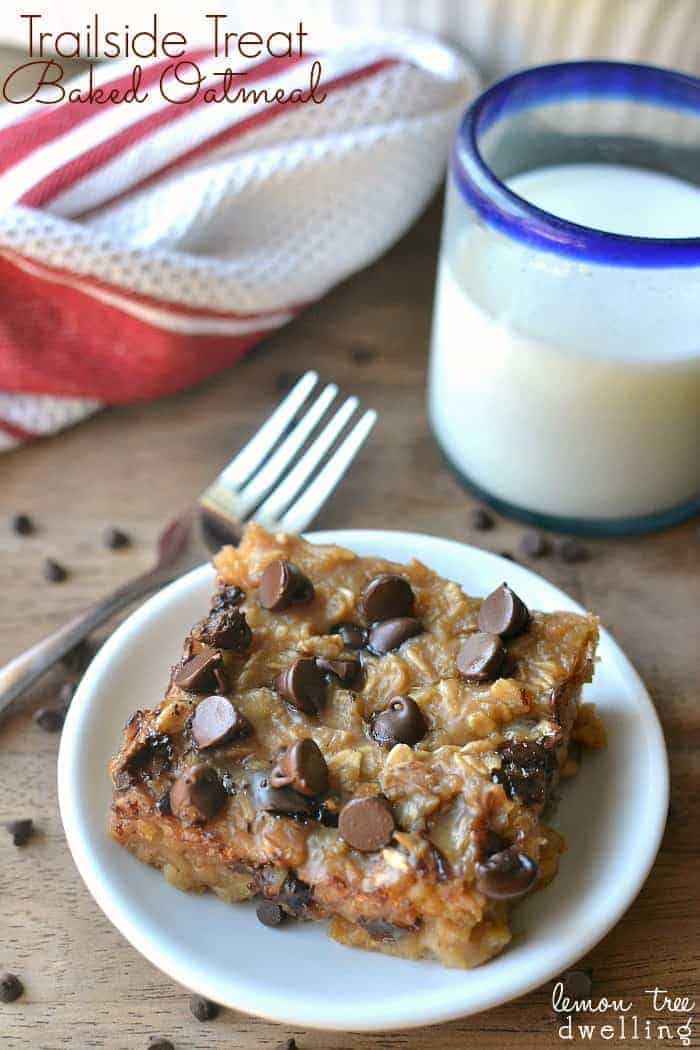 Hello and Happy New Year, Friends! It's Cathy from Lemon Tree Dwelling, here today to share this delicious Trailside Treat Baked Oatmeal with you. This recipe is perfect because it feels like a treat, but it's actually just oatmeal with a twist! It's a great recipe to make ahead and share with friends, or keep in the fridge so you'll have breakfast for the week. You can't go wrong with chocolate chips…..especially for breakfast, am I right?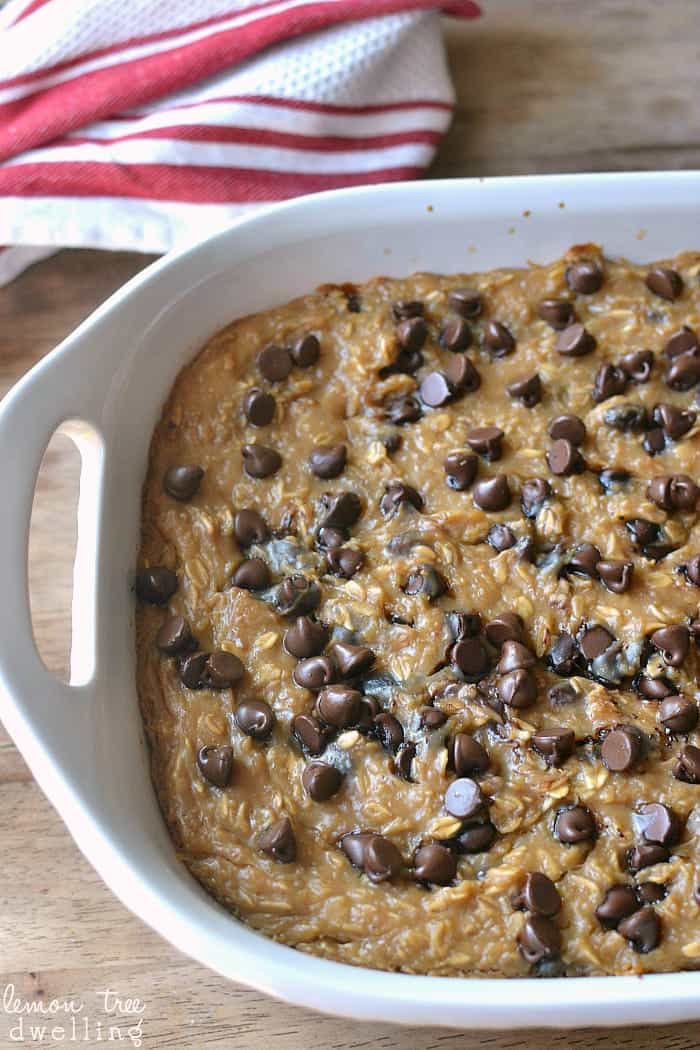 It's based on one of my favorite cookies from childhood – Trailside Oatmeal Treats! Have you had them? They're hearty and delicious, filled with oats and peanut butter and chocolate chips and raisins. Kind of like a granola bar, in cookie form. And now, in baked oatmeal form!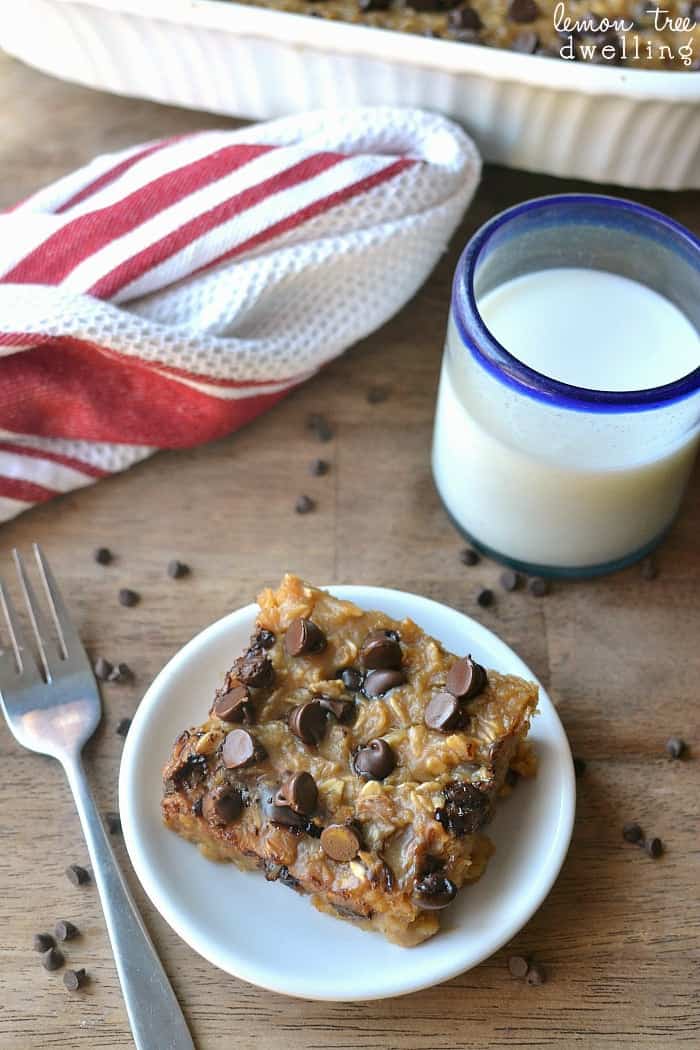 Just measure, stir, cook, and pour….then bake….and breakfast is served. And if the kids want to help? Even better! This is the perfect recipe for them to help with. Doesn't it look amazing??? It's like eating a cookie for breakfast, only it's guilt free. It doesn't really get better than that!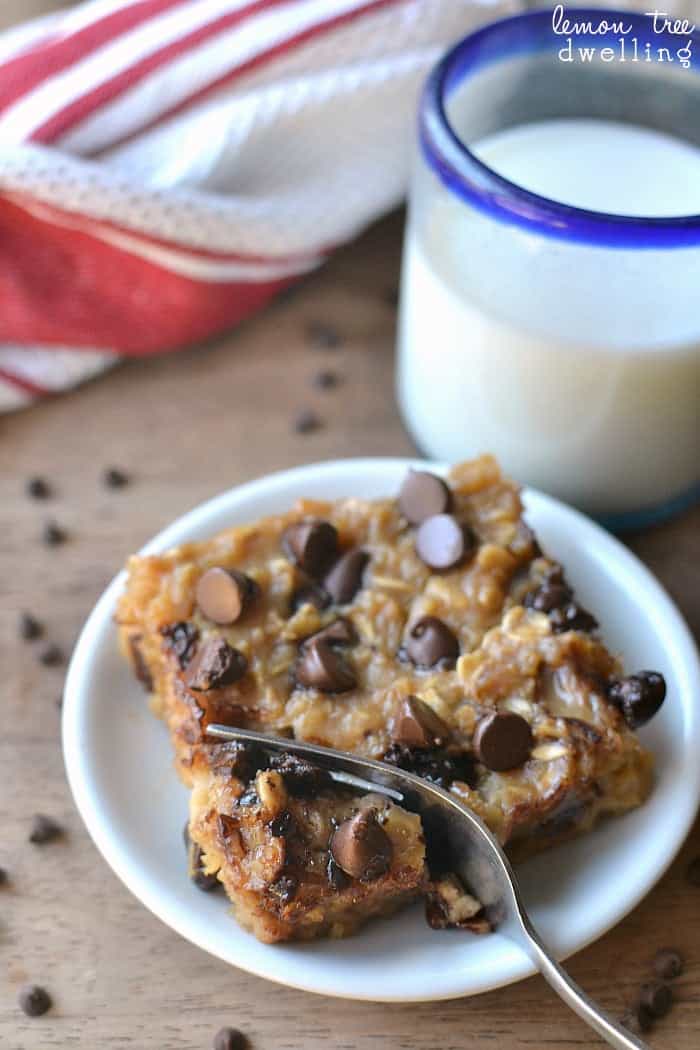 Trailside Treat Baked Oatmeal
Ingredients
3 c. old fashioned oats
1½ c. brown sugar
5½ c. milk
½ c. peanut butter
3 eggs, beaten
1 c. raisins
1 c. chocolate chips
Instructions
In a large pot, combine oats, milk, brown sugar, peanut butter, and eggs.
Mix well and simmer over medium heat, stirring regularly, 20 minutes or until thickened.
Once mixture is thick, stir in raisins.
Pour into greased 9x13 inch pan and top with chocolate chips.
Bake at 350 degrees for 30 minutes or until oatmeal is set.
Let stand 5 minutes.
Serve warm; top with milk or additional brown sugar if desired.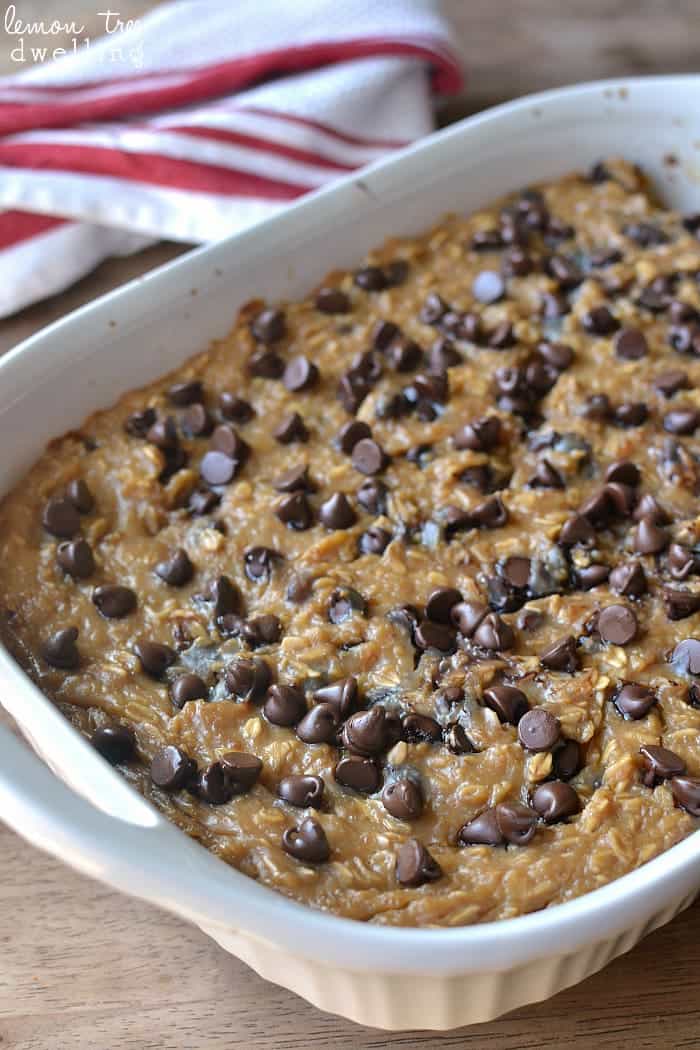 Thanks so much for having me! Still hungry? I'd love for you to stop by and check out some of my other delicious breakfast recipes!
CLICK ON THE IMAGES TO GET THE RECIPE
I love Cathy and her delicious blog Lemon Tree Dwelling.
Make sure to follow her on…