Spring is around the corner.
Before we know we are going to see the trees turning green, the grass will look fresh again, and the beautiful sounds, smells and colors of Spring will be all around us.
I personally love dressing my home with new colors each season
and using fabric is an easy way to do it.
Today I am sharing with you  25 cute, easy and fun pillows and their  tutorials.
I hope you love them!
Stenciled Pillows
Making these pillows was so much fun.
Enjoy The Ride Pillows Tutorial
Sunburst Pillow
Modern Felt Flower Pillows
by The Purl Bee,
DIY Sweater pillows
by super talented Megan from Brassy Apple.
Pom-Pom Pillow
Adorable!
Geometric Pillow
by Jen from Tatertotos and Jello.
Delicious!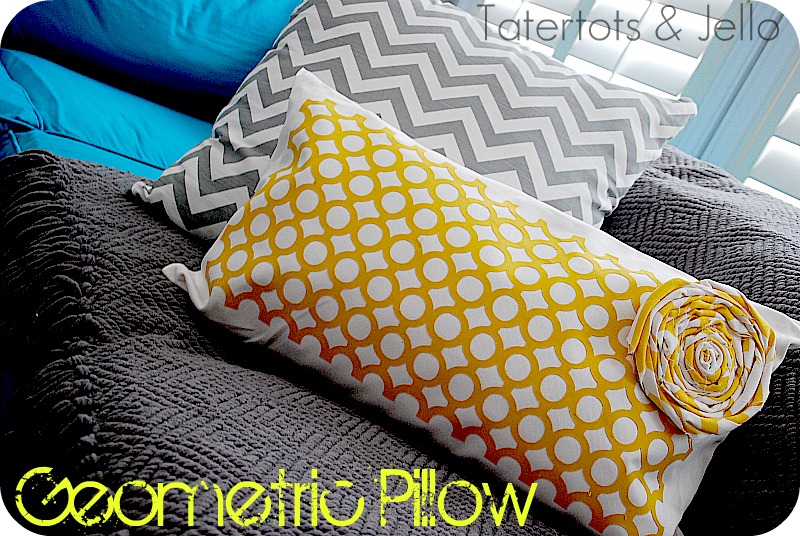 Honeycomb Pillow
by Fleeting Thing.
Timeless! 
Gathering Fabric & Muslin Pillow
Monogram Felt Pillow
by the The Sweet Survival.
Classic!
Wheel Pillow
by Cluck Cluck Sew.
Playful!
I love this idea make a word with pillows with Sada Lewis.
Fun!
Ruffle Pillows.
Here is another fun ones by Tatertots and Jello.
Bow Pillow
 by E Tells Tales.
Cute!
Felt Lattice Pillow
by Persia Lou.
WOW!
Faux Grain Sack Five Minute Pillow
Luv!
Shag Pillow by V and Co
I want this one!
No Sew Pillow
I made this one for my Mimi's Bedroom.
Flower Pillow by Burlap + Blue
I made one of this myself following this tutorial.
So Pretty!
Rainbow Scallop Pillow
by Paper Scissors and Superheroes.
Cute Colorful Pillows
Tutorial, HERE.
Peacock Pillow
by fabulous Amy at Positively Splendid.
Embellished Throw Pillows
by  The DIY Dish.
Check out the video tutorial .
Flower Pillow Tutorial
by I Create It.
Platted Pillow
Message Pillow.
I made these ones  as pillow-cases but you can make a smaller one as a pillow.
Tutorial by The 36th Avenue.
So there you have them 25 pillows!
Happy Monday My Friends!
Desirée.