It is party day here at The 36th AVENUE
 but before you link up I want to show you something…
Check out these 25 Edible Neighbor Gifts.
Every year for Christmas we love to give some Homemade Treats to our neighbors, family and friends.
Being so close to Christmas I thought to share with you some pretty amazing homemade edible gifts.
These are not just delicious but beautiful treats that you will enjoy giving
and those around you will love receiving, sharing and eating!
Good luck picking just one!
1
Krispie Treat Christmas Tree by Cookies and Cups.
This is how you say Merry Christmas without a word!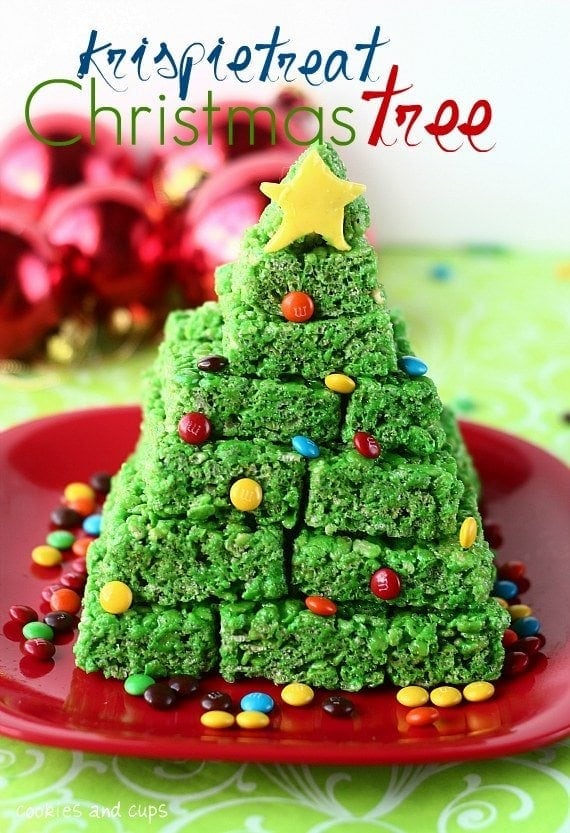 2
Candy Cane Dip by The 36th AVENUE.
I made this one this year to give to my children's teachers.
You'll be able to make this recipe in less than 5 minutes.
It is so good!
3
Powder Doughnuts Snowmen by Dukes and Duchesses.
This is brilliant!
A super cute treat in just minutes… Oh my cuteness!
4
Candy Cane Marshmallow Pops by Liv Life.
I thought they would be adorable inside of a mug with a hot chocolate envelope.
Adorable!
5
Oreo Elf Feet by The Diary of Dave's Wife.
Hello, I am in love with this one!
Is this idea fun or what? Super cute and festive!
6
Peppermint Lollipop Cupcakes by Munchkin Munchies.
Cutest cupcakes ever and you don't need to be an expert to make them!
7
Chocolate Peppermint Cupcakes by A Pumpkin and a Princess.
I chose this one because the ingredients sounded delicious and  this is such a gorgeous cupcake!
8
S'mores in a Stick by Your Homebased Mom
Cute, cute, and please forgive me but I'm going to say CUTE again.
S'mores have never look this good before!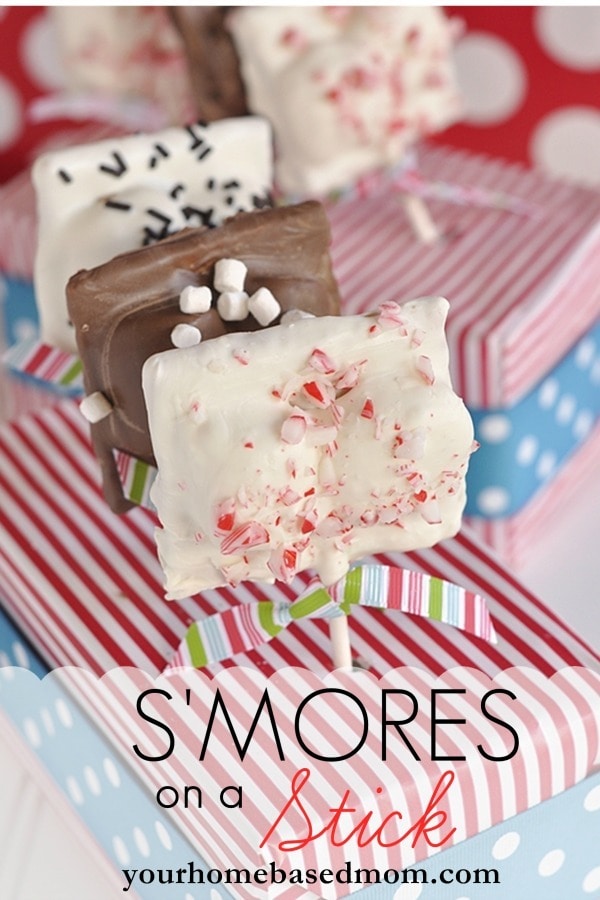 9
Easy Snowmen Cupcakes by All You.
So darling!
10
Hot Chocolate Spoons by Alphamom.
I am a Hot Chocolate lover so I had to add this idea to my favorite list.
11
What about some Christmas Tree Rice Krispie Treat Pops by Positively Splendid.
Kids will go crazy over this!
12
Cupcake Gift Jar by Lil Luna.
I adore the idea of presenting the cupcake inside of the jar.
This would be perfect for coworkers.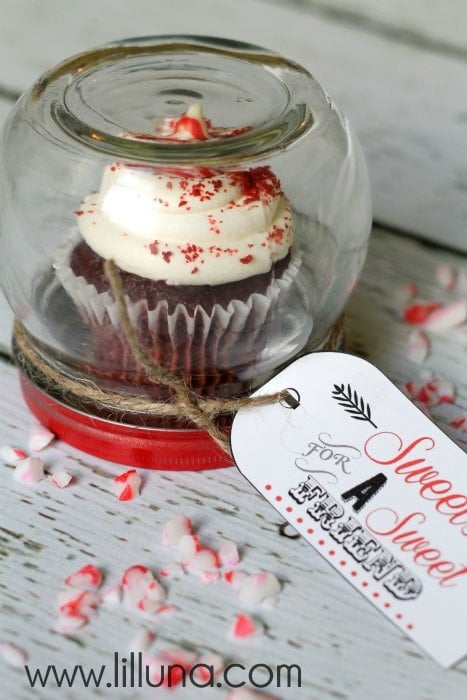 13
Festive Party Mix by Amanda Parties to Go
She is even sharing the free printables to decorate the jars!
14
Snowman Popcorn Covers by Craft-O-Maniac.
"Just popping by to wish you a Merry Christmas!"
I know you are loving them as much as I do!
15
Salted Caramel Hot Chocolate Mix by Pennies on a Platter.
Salted Carmel and Hot Chocolate together… Do I need to say more?
You can download the label there as well!
16
Reindeer Cake Pops by See Vanessa Craft.
Sweeeeeet!
17
Here are these yummy Cupcakes in a Jar by Cakies.
I love the idea of adding the spoon to the jar.
By the way this recipe looks GREAT!
18
Peppermint Cookie Bark by Your Homebased Mom.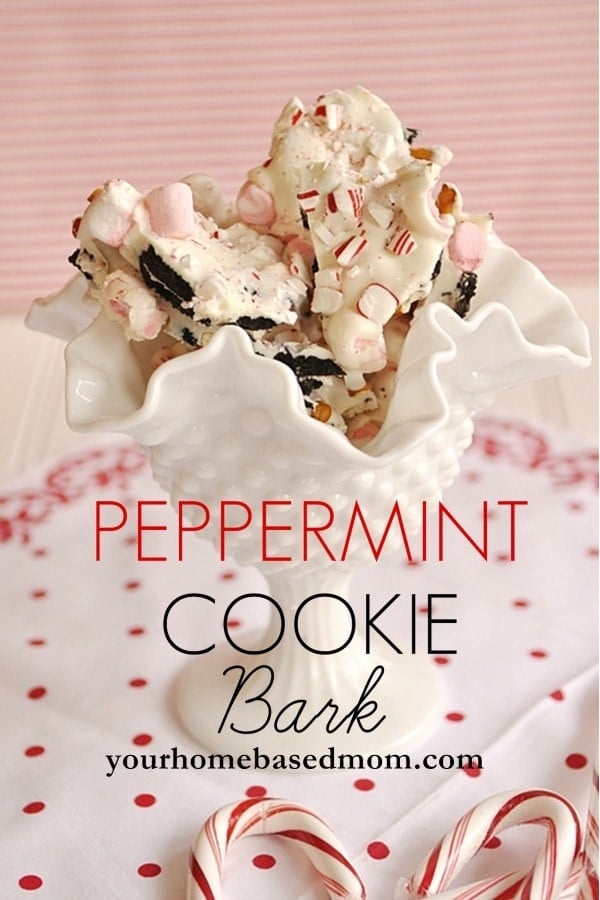 19
What a cool way  to give some Hot Chocolate.
Snowman Soup by The Stamps of Life
20
Adorable and  easy to make Rudolph Cookies by The Celebration Shoppe.
I would love to receive a plate of these cute cookies.
They put a smile on my face perhaps because I love Rudolph and they are so easy to make.
21
Peppermint Hot Chocolate Granola Bars by Inside BruCrew Life.
Yes you heard me right, pepermint and hot chocolate in a granola bar…
Shut UP!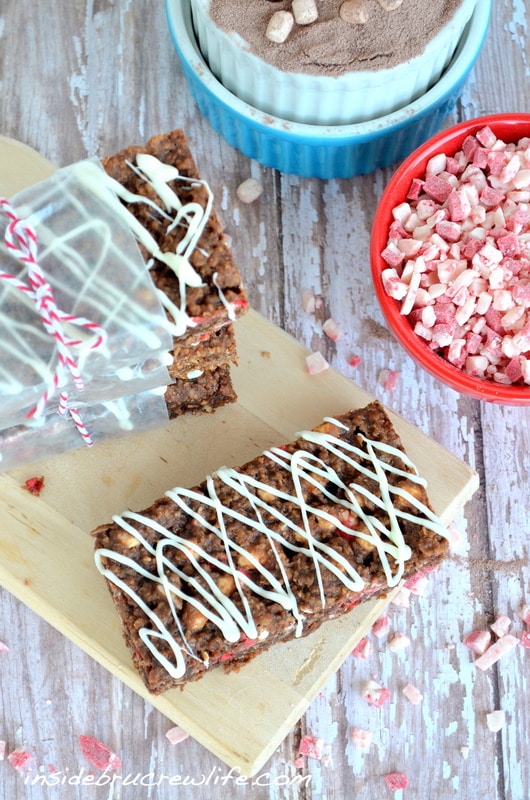 22
Santa Party Mix by Cookies and Cups
I shared this one last year but it deserves to make it onto the list this year as well.
Those Santa Hats deserve a Fa La La La standing ovation!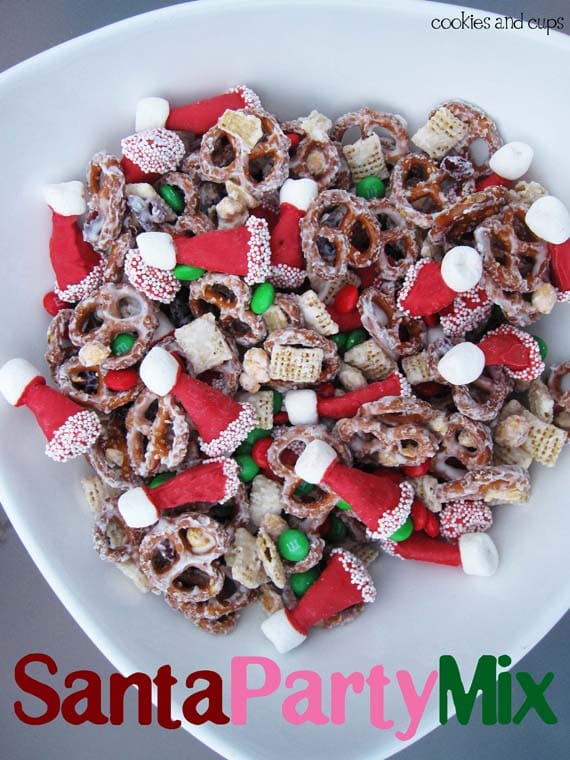 23
Two Ingredients Homemade Holiday Lollipops by Just A Taste.
My kids will kiss you and hug you if you drop these Lollies at our front door!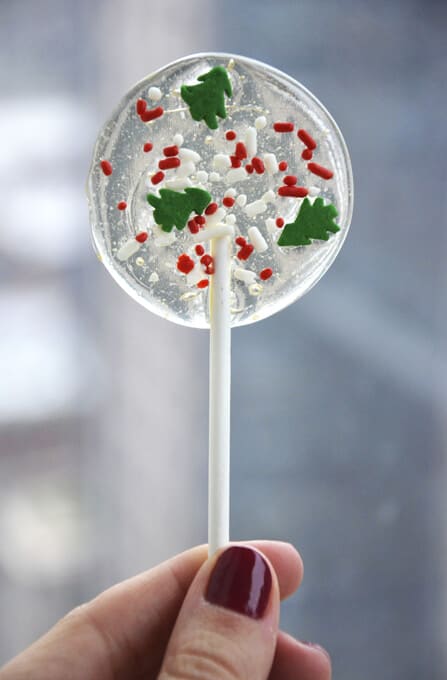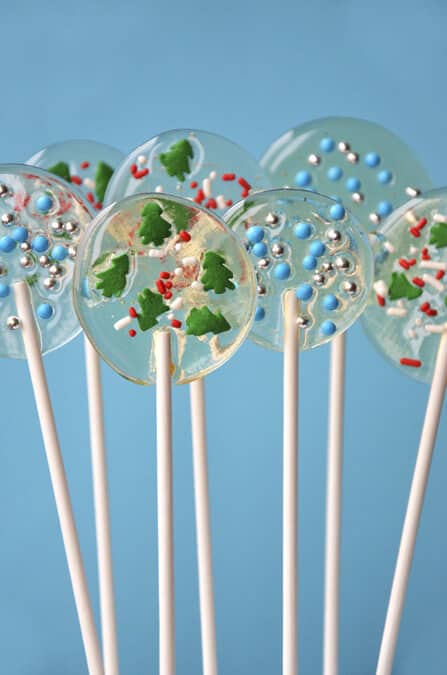 24
There is nothing that I don't love from Chef In Training but
these White Chocolate and Caramel Marshmallow Snowmen made
my mouth water and my  heart melt.
25
I am finishing with my Candy Cane Double Chocolate Chip Cookies in a Jar.
This is the gift that we shared last year with our neighbors and friends.
The cookies are made with cake mix so they are super easy to bake.
If you don't feel like baking put the ingredients inside of the jar and add the recipe to the gift tag.
I am also sharing the Christmas Tag Free Printable here.
So there you have them this year's 25 Homemade Edible Neighbor Gifts.
If you like to add the recipe to your gifts
here are some adorable Free Recipe Cards by The Cottage Market.
  And these free Recipe Tags and Labels. So cute!
Have a wonderful day friends!
I hope you stay in touch with us.
Have fun!
Besos
Desirée