I love handmade gifts!
I love to give them, I love to receive them, I love to make them.
In our home, May is a crazy month! We have Mother's Day, our Anniversary, and not just one but 2 birthdays. Gifts are in my mind! It took me a few weeks however to put this list of handmade gifts together
 The reason why is because I wanted to give you 25 amazing, cute, affordable, and easy gifts. Things that you would really want and love to give. Things that your friends, family, and neighbors would love to receive. I hope you like them as much as I do!
1
EASY CITRUS TEA-TOWELS AT Jessica Welling Interiors
2
DIY Wooden Necklace
Modern, easy, fun, colorful… I want one!
 tutorial by agirlwhomakes.com
3
Oh goodness!
Give this to the chef of your home!
tutorial by beeinmybonnetco.blogspot.com
4
Bottle Cap Flower Magnets
What a cute idea!
This would make a wonderful Mother's Day gift.
tutorial by Positively Splendid
5
DIY Multi-Strand Scarf
Be still my heart!
tutorial by Rabbit Food for My Bunny Teeth
6
 These Camera Key Chains are so fun and I think they would be easy to make!
 7
Tiny Polaroid Magnets
Aww!
via small birdie
8
DIY Spa Treatments
Yes please!
tutorial over at marthastewart.com
9
DIY Handmade Journal
I make these journals all the time and give them for birthday presents.
Everyone love them!
Check out my  tutorial here.
10
Make a Spoon Ring!
I give this project a 10…
This is BRILLIANT….
Check out the tutorial over at Through the Front Door.
11
Pop Can Key Chain
Genius!
 tutorial by Diary of a Crafty Lady.
12
Shrink Film Necklaces
What I love about this project is that the possibilities are endless…
Your imagination and creativity is the limit!
my tutorial here
13
Braided Belt – Tutorial at I Creative Ideas
Simple and perfect!
 14
Citrus Coasters
Oh, Happy Day! I love everything about these fruity colorful felt coasters.
Tutorial at The Purl Bee
15
CD Case Holder Picture Album
Shut UP! My mom would love to receive this with family pictures. Proud grandma can even carry it in her purse!
 tutorial by Weddingbee
16
 Ombre Soaps
…delicious!
tutorial by Soap Queen
17
 Picture Puzzle
Cute gift… cute decor!
tutorial by How Does She?
18
Homemade Jam – Tutorial by Funkytime
 Sweet! I love a good jam! Funky Time is not just sharing the recipe but the free printables!
19
DIY Lace Pottery –  
Tutorial by Victoria Mag
Gorgeous! You are going to be amazed at how easy it is to make this pottery!
20
Custom Stencil Washable Mugs – My tutorial here
You may remember these mugs from my kitchen. You can monogram it, hand-free paint it, or come up with a cool unique design. Make it and give it!
21
R is for Ric Rac Rose Ring! – Tutorial by The Ribbon Retreat
Love the color, love the look, love the tutorial, love it all!
22
Give some DIY Washi Tape to your Crafty Friend!
Adorable!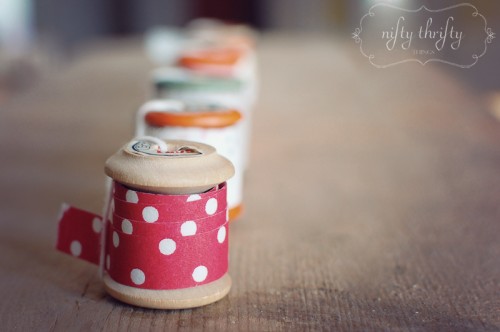 tutorial at Nifty Thrifty Things
23
This Homemade Laundry Detergent would make a sweet welcoming Home Gift for any new homeowner!
tutorial at Great Oak Circle
24
DIY Mod Podge Photo Canvas
Clever!
tutorial by The Sassy Pepper
25
Shrinky Dink Bracelet
This bracelet was made with ink-jet printable Shrinky Dinks sheets.
I love the vintage look!
tutorial at Country Living
They are EXTRAORDINARY!
If you have a minute you may also want to check 25 Handmade Gifts Part 1.
and these 20 great wrapping ideas
Happy Day!
Desirée