Oh my!
Are you ready to drool?
I am bringing you today 20 delicious desserts that were linked up to the
 Show Me EXTRAORDINARY Link Party but first I want to ask a HUGE favor.
In just two weeks I will be going to SNAP Conference…
I am so excited!
During the time that I am there I would love to have four of you as an EXTRAORDINARY Guest here on my blog.
You don't have to share a new project, it can be something that you have shown on your blogs already and that you would like to share with my readers and I. If you would like to help me with this please send me an email  as soon as you can with the link to your blog or post, subject: guest.
THANK YOU SO MUCH!
OK, here we go…
I have some sweetness for you.
Brownie & Twix Trifles
by A Pumpkin and a Princess.
Lemon Kissed Cupcakes and Cream Cheese Frosting
by Rose Bakes.
Chocolate Silk Cheese Cake
Bunny Buns
by Be Book Bound.
Salted Caramel Bird's Nest Cookies
by The Money Pit.
Tunnel of Fudge Cake
by The Real Thing.
Sweet Potato Gnocchi with Browned Butter and Sage
The Good Boy, Triple Chocolate Mini Loaf
by Salt Tree
Lemon Meringue Pie Dip
Easy Weeknight Desserts with COOL WHIP
Fudge Filled Cadbury Eggs Cookies
by Something Swanky.
No-Bake Chocolate Egg Nest Cookies
by Chef in Training.
Super Simple Chocolate Pie
by It's Overflowing.
Pineapple Cake with Toasted Coconut Frosting
Caramel Pecan Chocolate Cake
by Bird On A Cake.
Neapolitan Fudge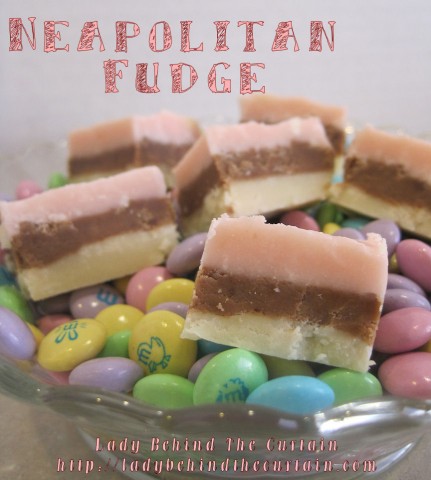 Sugar-Coated Sundays: Peanut Butter Graham Cracker Pie
by White Lights.
Mini Carrot Cakes
…and I am finishing with one of my own favorite breads.
Banana Bread with Almond Orange Glaze.
Have a Delicious Friday!
♥
Desirée