Hello My Party People!
I really hope everyone is having an EXTRAORDINARY day.
Today I am visiting and hanging out with gorgeous Jen over at her fabulous blog
I Know… I am so darn lucky!
I am sharing there a little accessory that I made last week…
this adjustable ribbon bracelet.
Make sure to stop by and check out the tutorial!
I hope you enjoy it!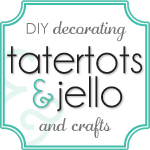 Now I know you are ready to party so
SHOW ME EXTRAORDINARY!
You know what to do…
If YOU made it share it!
IF YOU DIDN'T MAKE it DON'T SHARE it!
– PLEASE DO NOT LINK ROUND-UPS.
Links to SHOPS OR GIVEAWAYS WILL BE DELETED-
PLEASE Button up HERE
and let others know that they can party here!
Have fun and inspire me to create a new STICKER!
If you are new to my blog I want to welcome you!
I hope you stay in touch with me and 
Subscribe to The 36th Avenue via Readers.