Every month I count down the days to visit with Jen over at her blog
I still can't believe that I have the privilege of being a contributor for her fabulous blog.
Trust me my friends dreams come true!
Today I'm sharing with Jen and her readers the TUTORIAL of this little tote…
… and I am sharing here with you my sweet readers
the GIVEAWAY of the stencil I used to make it.
 I'll be using mine to store all of those grocery bags that come home with me from the store.If you are not a big fan of totes I think you could make a super cute sign with the stencil.
It was hard for me to pick a fruit so I made four stencils:
pear, apple, orange and cherry.
Because there are four stencils there will be four winners.
Here we go!
TO ENTER THE GIVEAWAY 
1. Subscribe to The 36th Avenue.
1 entry
2. Like The 36th AVENUE on Facebook.
1 entry
3. Let me know what fruit you like the most!
1 entry
Additional ENTRIES 
4. Become a Linky Follower.
1 entry
 5. Enter the party!
1 entry
6. Facebook this giveaway.
1 entry
7. Twitter this giveaway.
1 entry
8. Check out the TUTORIAL over at TT&J
and leave a comment there.
 1 entry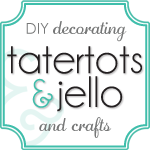 Remember to come back and leave a single comment for each entry.
The winner will be announced Monday, 20th 2012.
NOW IT IS TIME TO
SHOW ME EXTRAORDINARY!
You know what to do…
If YOU made it share it!
IF YOU DIDN'T MAKE it DON'T SHARE it!
-SHOPS OR GIVEAWAYS WILL BE DELETED-
PLEASE Button up HERE
and let others know that they can party here!
Have fun and inspire me to create a new STICKER 😉
………………………………..