Hey there, The 36th Avenue readers!
 I am pumped to be with you today to share this idea for a simple gift.
I know you guys love Desiree's blog as much as I do! It's a happy place.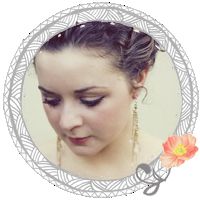 From beginner to advanced crafter, I've got something for everyone!
I also blog about fun life things and inspiration.
Lately a lot of my co-workers have had birthdays.
Co-worker birthday gifts add up and not everyone wants some type of dessert for their birthday.
So I came up with this customizable, scented sachet, which I think makes a great 'outer-circle' gift.
Supplies: Paper (I used 4.5×6 inches and 4.5×4 in), piece of scrap fabric, lavender, decorative elements, ribbon
Tools: Glue, sewing machine, hole punch, scissors
Step 1: You need a piece of paper and longer piece of paper (Ha! Super descriptive, huh?). My longer piece was 2 inches longer but the same width.
Step 2: Sew that baby up! You are essentially making a paper pocket – do not sew the top 2 inches of the longer piece, that will be your pocket flap. My sewing was disastrous but this was the last piece of that paper I had so I decided to keep my crooked lines. It actually looks fine when all is said and done!
Step 3: Punch two holes where the longer paper begins to stick out at the top.
Step 4: Insert your piece of scrap fabric (I used an old t-shirt) into the pocket, as shown in the photo. I used fabric for this step because lavender (or any other flowers/herbs you might choose) should have some natural oils. I did not want to risk having those oils damage the paper pocket.
Step 5: Add a bit of lavender to the fabric and push the whole thing down into the pocket. Don't use too much, as it will cause your sides to bulge and pull at your stitches. Also, this would be a good time to add a drop of lavender essential oil so the scent will last longer.
Step 6: Thread a ribbon through the two holes you punched earlier and tie them into a knot or bow – this will be your hanger.
Step 7: Fold the longer paper down, creating a flap. Glue down securely. If you think this might be used in a car, remember to use a glue that won't fall apart in heat (E6000 is a good one!).
Once you add your decorative elements, you are done!
I am really happy with the final product.
The only thing I would do differently is add essential oil to the lavender – the beautiful scent is fading too quickly!
Isn't this paper craft project so darn cute!
I love and I follow Katie's blog.
Her projects are fresh, modern  and unique.
I love her style so much that I included her awesome hair clip on my
25 Handmade Gifts Under 5 Dollars Post.
Here are a few other projects, among the many others that I love from Katie.
Tutorial HERE.
Tutorial HERE.
You can keep up with Katie at: Twitter, Pinterest, Facebook, Instagram
and of course her awesome blog Lemon Jitters.
Thank you again Katie for visiting with us and being an EXTRAORDINARY guest!
Happy Tuesday!
Besos!
Desirée