Hello there my 36th Avenue friends! It's Gina from Kleinworth & Co. I'm back today to share with you all one of my favorite easy dessert ideas. If you love caramel & coconut- these will really make you smile. Those are some of my favorite flavors too. Oh my goodness- it's so good. So what makes these so easy. Well, I took one of my favorite mixes, added additional toppings to match the mixed in flavors & it turned out incredibly scrumptious. These blondies will surely be a hit with whomever you share them with.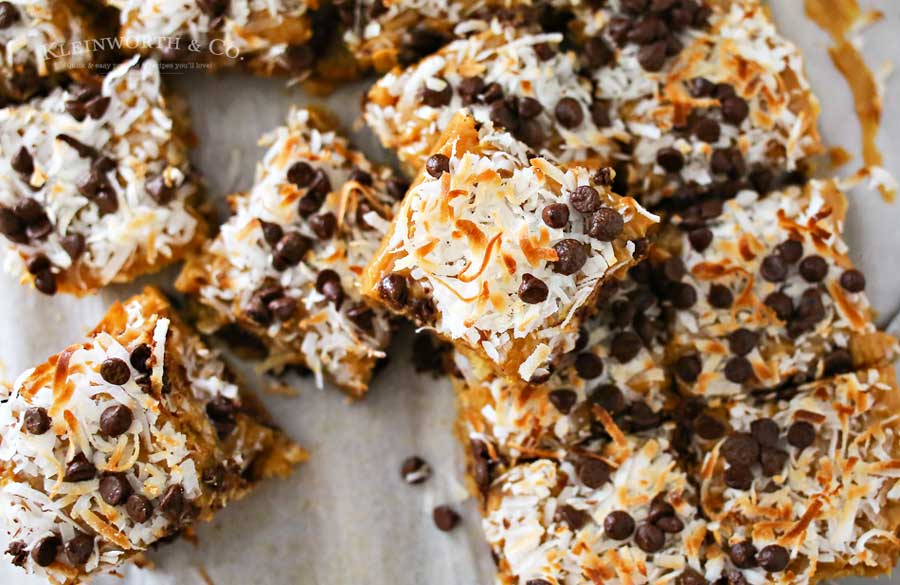 I used my homemade caramel to make these. But you can just as easily use a jar of caramel from the store. Then I added tons of coconut, mini chocolate chips & then toasted under the broiler for a few minutes. It melted those chocolate chips just enough to make them gooey & boy was it amazing.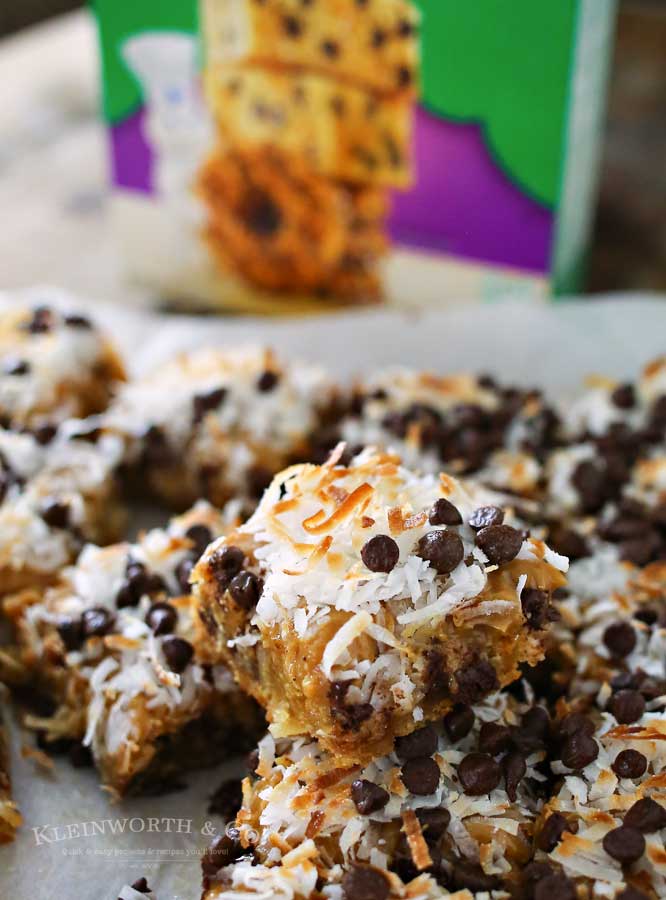 Just look at that- I just swoon over every bite! Sooooooo delicious!
Caramel Coconut Blondies
Caramel Coconut Blondies, a yummy bar recipe loaded with butterscotch & chocolate & topped with a layer of caramel, toasted coconut & more chocolate chips.
Ingredients
1 box 14.1 oz Girl Scouts® Caramel & Coconut Flavored Blondie Mix (plus called for ingredients - water, egg, butter)
8 oz caramel sauce
2½ cups sweetened coconut
½ cup mini chocolate chips
Instructions
Make blondies as directed on box using a 8x8" pan lined with parchment paper
Once baked, remove from oven and top with caramel sauce, coconut & chocolate chips
Return to oven & set to broil
Broil until coconut becomes golden & chocolate is melted- approx 3-5 min
Looking for more yummy bar recipes?