Beautiful, simple summer salad, ideal for lunch on a hot day. Fresh tomatoes on a vine layered with fresh mozzarella cheese, topped with delicious white balsamic reduction and fresh basil.
Happy summer everyone!
We actually started our summer, i.e. summer break from school, this week. I already have many fun activities planned on the calendar. Everything that we wanted to do but couldn't get to during the school year, I want to do now. Beach, park, berry picking at a farm and all that good stuff. It will actually be our first time going berry picking next week. I've done it when I was a kid but never had time to do it since. I really hope my little man enjoys it as much as I used to. I do know that not much will make it into his basket because everything will go straight to mouth.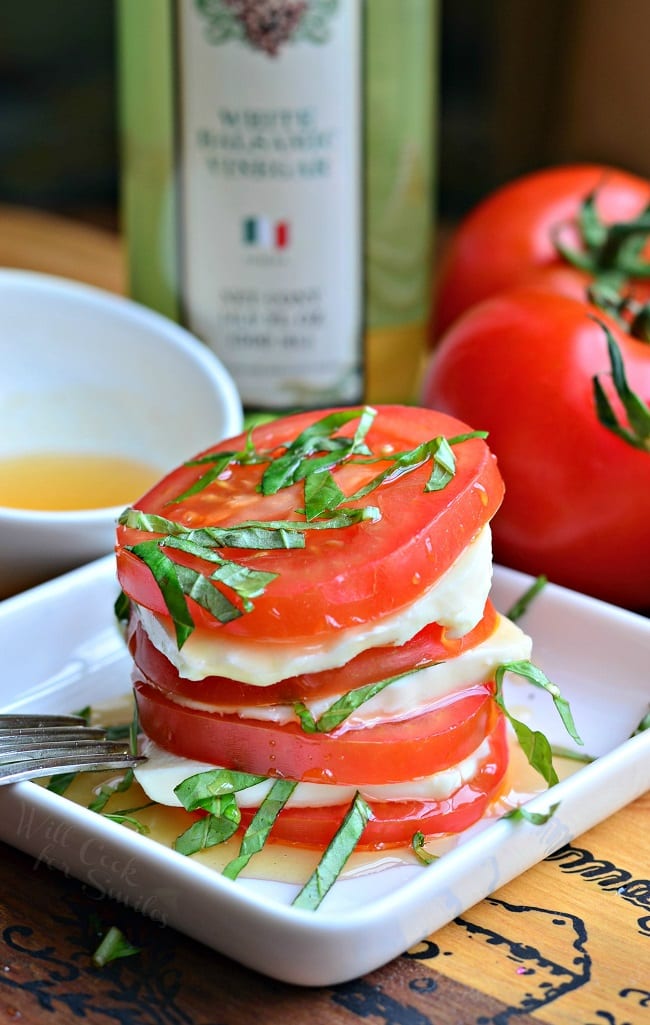 The farm that we will be going to has so much more than berries and all available for picking. I can't wait to get baskets-full off fresh fruit and veggies. I know that the first thing I will be making as soon as we get home, is this Fresh Caprese Salad. It's my absolute favorite salad and the best thing about it is the white vinegar reduction.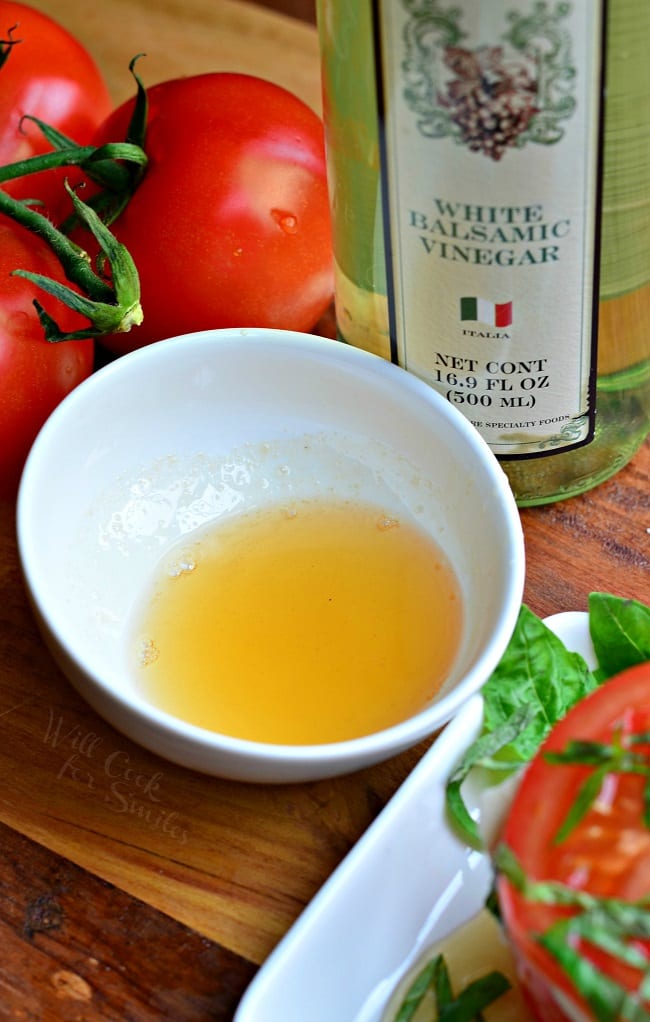 I really hope that I'm not the only one who's been in the dark about white balsamic vinegar. A friend told me about caprese pasta salad that she was making and she said that she always used white balsamic. I was quite embarrassed that I didn't even know that there was a white balsamic vinegar. Naturally, I had to run to the store and get a bottle and then run home and make myself a salad with it.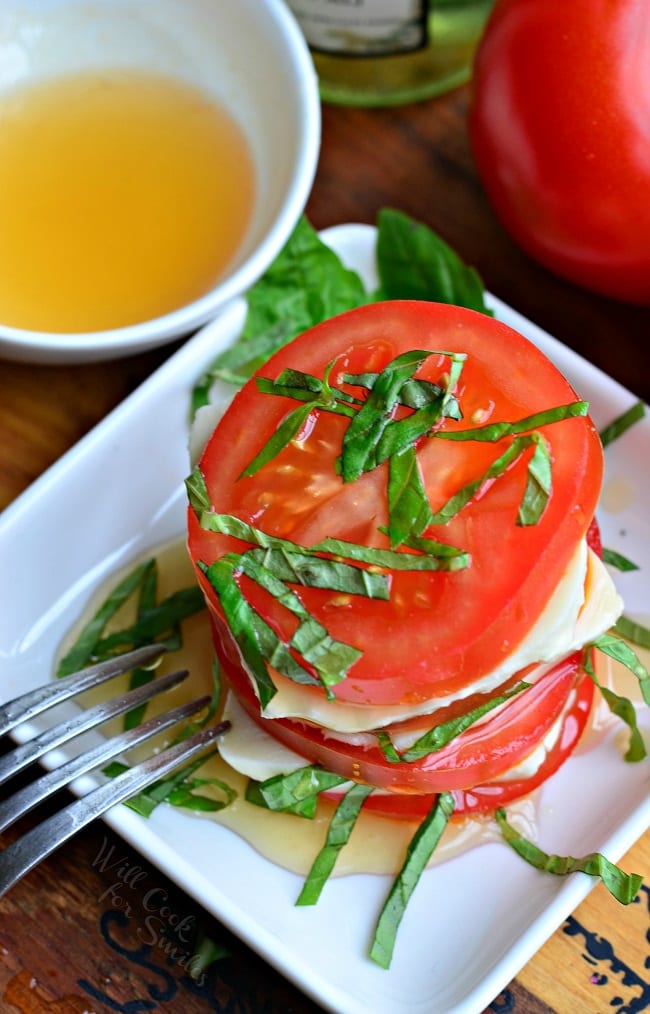 Let me just tell you, reduction with white balsamic is SO much tastier than regular balsamic vinegar. I've been missing out for years and I hope that you will try it as soon as possible! The taste is a lot crispier, a little sweeter and grape is much more pronounced. Deliciousness!
Best Recipes - Mediterranean Tomato Salad
Ingredients
2 large tomatoes on a vine
8 oz fresh mozzarella cheese
10 large basil leaves
Reduction:
½ cup white balsamic vinegar
1 tsp honey
Instructions
Balsamic reduction:
Whisk white balsamic vinegar and 1 tsp of honey in a small sauce pot, over medium-high heat, and bring mixture to simmer. Once it starts to simmer, turn the heat down to medium. Let vinegar slow simmer, stirring occasionally, until the mixture coats the spoon. It will take 7-10 minutes but please note, that it will start to thicken fast during the last couple of minutes so keep an eye on it. Set aside once it thickens.
Slice tomatoes and mozzarella cheese into even slices and dice basil leaves. Layer tomato slices alternating with mozzarella slices and sprinkle basil over the top.
Drizzle white balsamic vinegar reduction over all over the salad.
Some More Recipes From Me: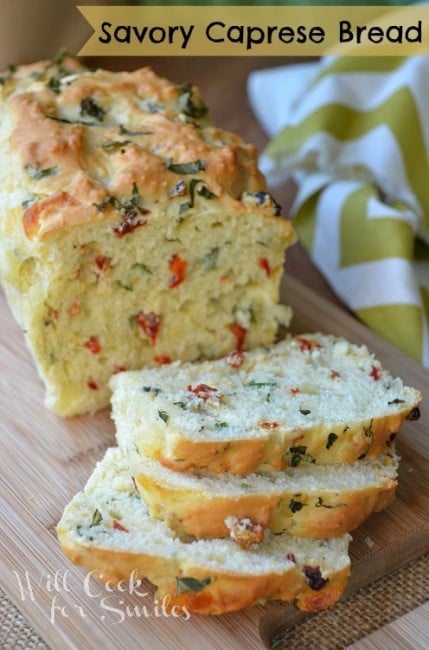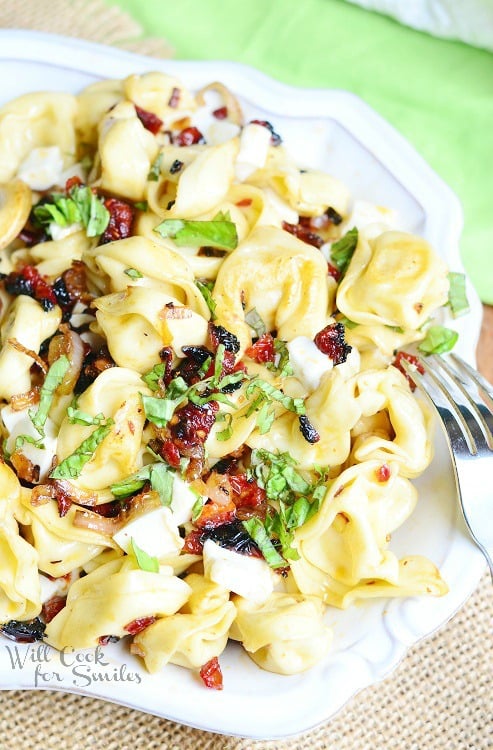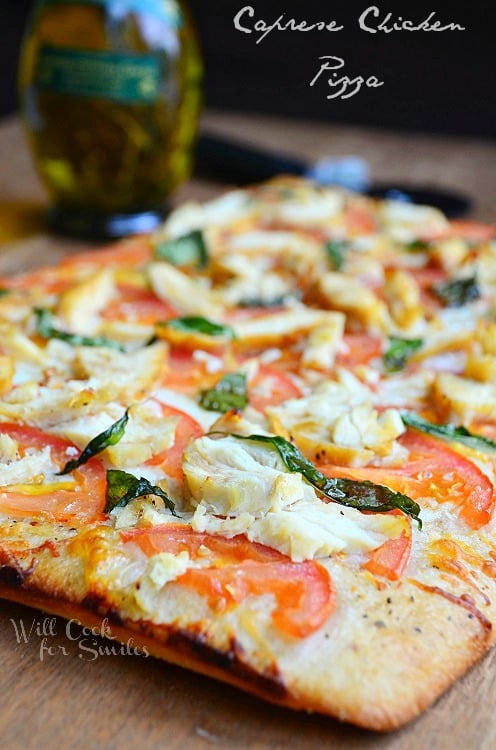 Make Sure To Come By And See Me On My Site Or Any Of My Social Channels!