Do you love soup?
I grew up eating all types of spoon foods,
 that's how mom used to call any main dish that required the use of a spoon.
This Fall I am ready to try some new recipes. 
Some delicious soups to warm up our bellies, our kitchen and why not our hearts.
 Here are the Top 10 Must Try Soups on my list.
Come on! Don't tell me this doesn't look delicious!
Recipe by thecurvycarrot.com
Smoky Corn Chowder with Shrimp
Are you kidding me?
This soup had me at smoky!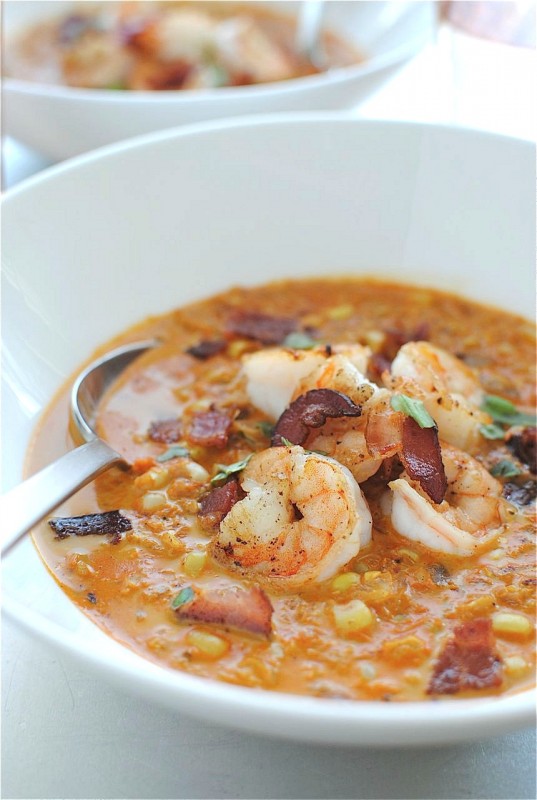 Recipe by bevcooks.com
 Broccoli Cheese Soup and Cottage Cheese Rolls
Mercy!
I don't care how may calories this soup has…
I want it now!
Recipe by Dine & Dish
 Disneyland's Loaded Baked Potato Soup
OK I have never been to Disney Land but I have heard they have the best baked potato soup.
Well, I am going to have to try it!
Recipe by disneyparks.disney.go.com
I am hungry!
Recipe by anediblemosaic.com
Tomato Basil Parmesan Soup in the Slow Cooker
Anything that looks this good that has tomatoes and slow cooker in its name
has to be tried!
Recipe by Today's Mama
Cafe Rio's Chicken Tortilla Soup
I have just four word for this one…
Shut The Front Door!
recipe by favfamilyrecipes.com
This soup screams Fall to me!
Recipe by blog.seasonwithspice.com
That piece of corn has my name on it!
Recipe by jehancancook.com
Just because I love lentils!
Recipe by wholeliving.com
So there you have them ten reasons to put on an apron,
set the table and cook a real warm, delicious homemade soup.
I think I am going to start with the  Broccoli Cheese Soup and Cottage Cheese Rolls.
Yum! 
Happy Day!
Besos!
Desirée