This Salted Caramel Skillet Cookie Recipe is much like a Pizookie. A giant, thick & chewy chocolate chip cookie baked in an iron skillet with salted caramel.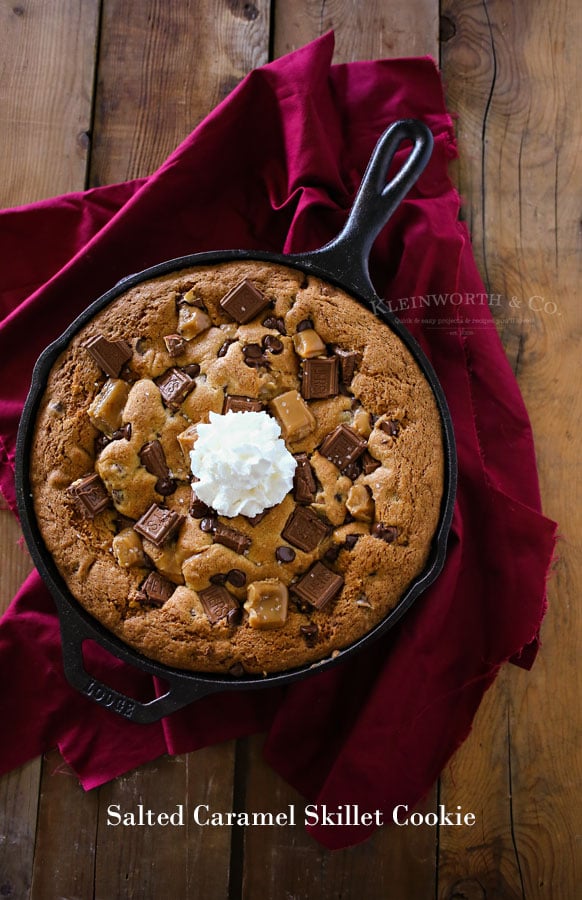 Hello, there my 36th Avenue friends. It's Gina from Kleinworth & Co. I have a little confession to make. I can't get enough of salted caramel. I get so excited this time of year because I can find so many places offering salted caramel drinks & goodies. It makes my heart go pitter-patter. But sometimes grabbing that wonderful flavor when I'm out running errands doesn't quite satisfy the craving. So I find myself coming up with new & creative recipes to enjoy it a little more often. Like when I made this Salted Caramel Skillet Cookie Recipe.
It's just like my favorite chocolate chip skillet cookie, but I added a whole lot of homemade caramel pieces & coarse sea salt. I can tell you, this is by far my favorite skillet cookie I have made to date. It was oooey, gooey & oh so delicious. That salty sweet combo just made me swoon. In fact, I have made it several more times since I took this picture of the first one. I couldn't help myself, it was incredible. Did I mention that it was super easy to make too? Yep! Just mix, dump, bake & ENJOY! I suppose that's why I love these so much. They make treat making so simple & it's a dessert we all enjoy together as a family. It's so much fun to gather around the table, all with spoons in hand & dive in until we are all bursting at the seams & the skillet is empty.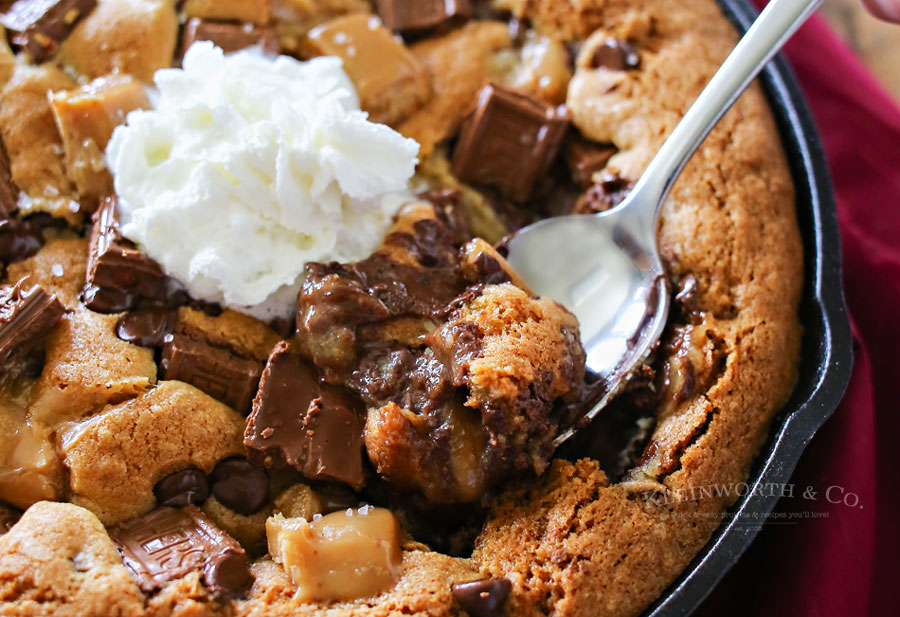 Salted Caramel Skillet Cookie
Salted Caramel Skillet Cookie is much like a Pizookie. A giant, thick & chewy chocolate chip cookie baked in an iron skillet with salted caramel.
Ingredients
1 cup butter - room temperature
½ cup granulated sugar
1 cup packed light brown sugar
2 large eggs, room temperature
2 tsp vanilla extract
2 tbsp milk
21/2 cups all-purpose flour (spooned & leveled- not scooped)
1 tsp cornstarch
1 tsp baking soda
½ teaspoon table salt
1 cup semi-sweet chocolate chips
20 caramel squares
1 chocolate candy bar - broken in pieces
2 tsp coarse sea salt
Instructions
Preheat oven to 325°F
Lightly grease oven-safe, 10" cast iron skillet (you must use an oven safe skillet)
In mixer bowl with paddle attachment, beat the butter smooth and creamy
Add granulated sugar & brown sugar and beat on medium-high until light & fluffy
Beat in eggs, vanilla & milk on high speed until well mixed
Scrape down the sides and bottom of the bowl as needed if not using a scraper paddle attachment
Add flour, cornstarch, baking soda and table salt on low speed until combined
Add the chocolate chips & mix on low
Transfer ½ the cookie dough into prepared skillet & press down into an even layer
Add ½ the chocolate bar, caramel pieces & sea salt
Top with remaining dough, pressing down again & then with remaining chocolate candy bar, caramel & salt
Bake for 27-30 minutes or until browned on the sides and lightly brown on top
If you like it a little more cooked through, bake for 35-40 minutes.
Allow the cookie to cool slightly in the pan on a wire rack before serving
This is one over the top dessert they will beg for again & again. Top with ice cream or whopped cream for added goodness!
Looking for more of our favorite fall recipes?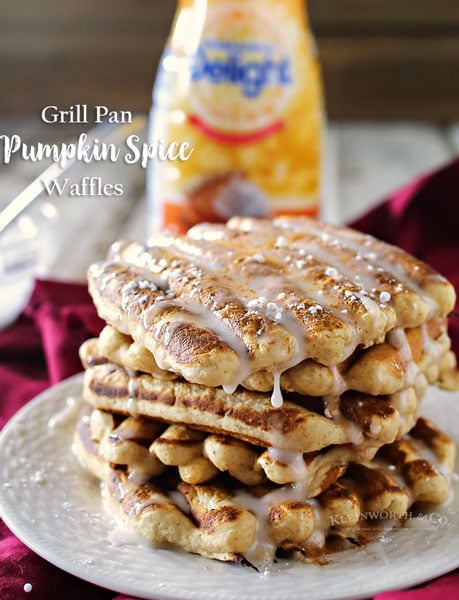 Grill Pan Pumpkin Spice Waffles