Hey guys! I'm back this month to share an amazing side dish with you. This pasta salad recipe is really simple and unbelievably delicious. It's perfect to serve at any backyard party and barbecue. So grill away… as long as you serve this awesome pasta salad with any meats you grill.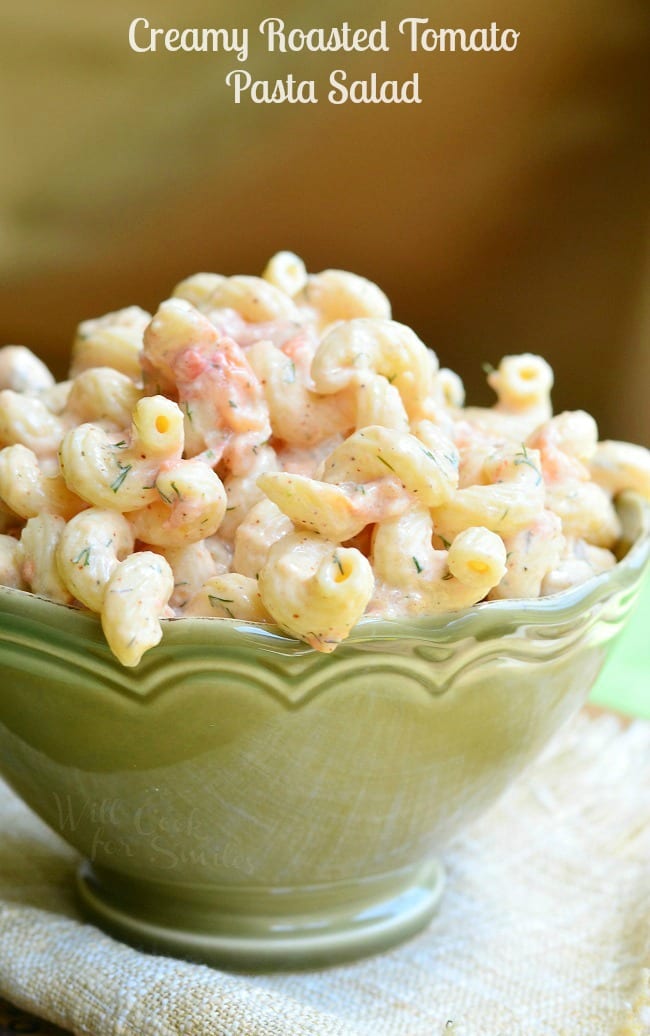 Do you have those moments when you get a great idea for a recipe in your head but you don't really know how good it would be until you actually taste it? I love those times because once I take that first bite of deliciousness…my knees buckle. This pasta salad was definitely one of those recipes, pure heaven!
Last week, hubs asked for a pasta salad. Of course, he knew he wanted one but he had no clue what he wanted. I took it as an opportunity to come up with something new so I could also share a new recipe with you. Two birds with one stone.
I came up with something simple that only had a few ingredients but this is turned out so good! I wanted to make a creamy tomato pasta salad but decided to take it a step further and roasted tomatoes first. You can take it even further if you are planning a barbecue. You can fire-roast tomatoes on the grill in you have it available! I am definitely fire-roasting them for the next barbecue.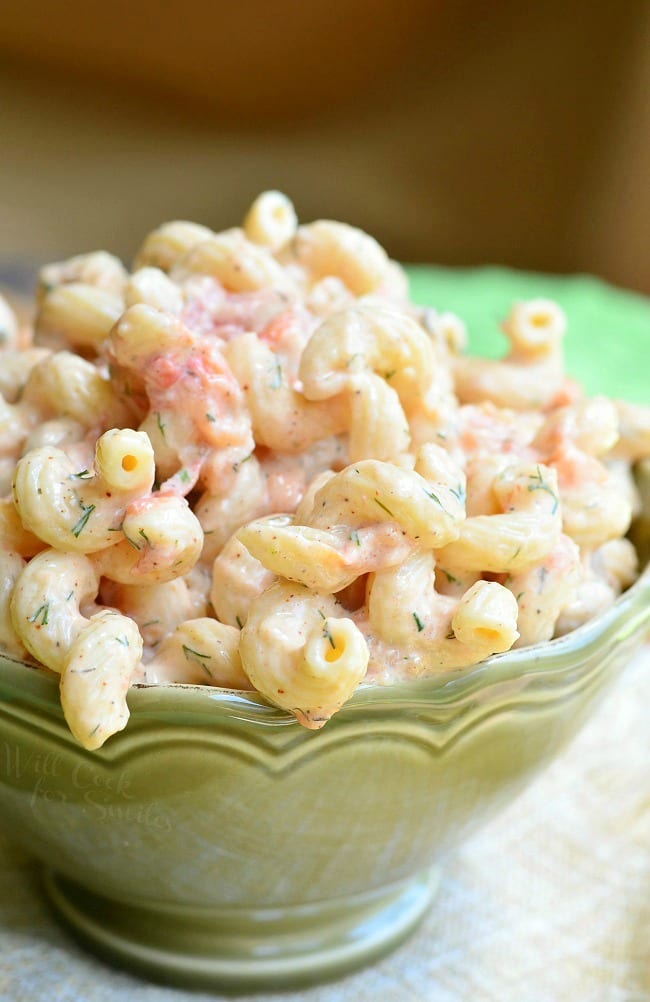 Creamy Roasted Tomato Pasta Salad
Author:
Will Cook For Smiles
Ingredients
1 lb dry Cellentani pasta (or other shape of your choice)
3 large tomatoes
2 Tbsp olive oil
1 Tbsp minced fresh dill weed
Salt, fresh cracked black pepper
3 garlic cloves
2 Tbsp minced fresh dill weed
½ cup mayo
⅓ cup sour cream
Salt
Fresh cracked black pepper
¼ tsp paprika
Instructions
Pre-heat oven to 400 and cover a baking sheet with aluminum foil. Quarter tomatoes and place them in a large mixing bowl and mix them with 2 Tbsp of olive oil. Mix well until tomatoes are completely coated.
Place tomatoes on the lined baking sheet, cut side up. Sprinkle each wedge with dill weed, salt and pepper.
Roast for 25-30 minutes in the oven. Take out and set aside.
Salad:
Cook pasta according to the package, drain well and place in a large mixing bowl.
Take skin off of roasted tomatoes, chop them and add to pasta. (Make sure to save tomato juice while cutting them and add it to pasta as well.)
Press garlic into pasta and tomatoes. Mix well.
Add mayo, sour cream, 2 Tbsp fresh dill weed, salt, pepper and paprika. Mix well, transfer into a container with a lid and refrigerate until ready to serve. (It would need a couple of hours in the fridge.)
Some More Recipes From Me: