Hello again. It's Aniko from Place Of My Taste. I am so glad to be back here and share another amazing recipe with you all. I usually try to bring easy recipes. Have you seen my tomato mozzarella appetizer or strawberry dressing recipe that I shared here in the last few moths? Today's recipe is one of my favorite scone recipe. I make the same recipe with different fruits ALL the time. This time I chose to make a delicious peach scone. 
One of my favorite summer fruits are peaches. I actually have many many favorite summer fruits.Yep. As we are going out of peach season now, you can buy lots of ripe peaches at your local farmers market or grocery store for a pretty nice price /lb.
I like the peaches when they are ripe and juicy.
Oh, Yum!
It only takes maybe 10 minutes to put together this easy scone. I like to roll out the dough and cut triangle shapes. ( The dough will be sticky) I embellished the scones with peach slices but you don't have to, it is optional. The peach chunks that are already in the dough will give a nice peachy flavor to the scone anyways.
PEACH SCONE
Ingredients
2 cups all purpose flour
¼ cup brown sugar
1 tbs baking powder
¼ tbs salt
¼ cup butter ( melted)
1½ cups diced peaches
¾ cup half & half cream
1 egg
(sliced peaches to embellish- optional)
Instructions
Preheat oven for 375 degrees.
Mix flour, baking powder and salt together in a big bowl.Set aside.
Mix melted butter with sugar, add half & half and egg in a separate bowl. Stir the tow mixes together and add diced peaches. Work the dough together. If too sticky, add more flour.
Roll it out and cut triangle shapes. Place them on a baking sheet and bake until golden brown, maybe 20-25 minutes.
Enjoy!
Imagine this nice scone with your favorite flavored cup of coffee for your afternoon snack or with a big glass of milk for breakfast.
Give this easy scone recipe a try. I am sure you will love it. Back to school is here and this delicious scone will make a nice snack to pack for kids too.
Here are some other delicious summer fruit creations:
STRAWBERRY – CANTALOUPE SLUSHIES
VERY BERRY VANILLA PARFAIT WITH TOASTED PECANS
Have you seen my DIY bar cart where I can SERVE all these amazing creations outdoor?
DIY INDUSTRIAL PIPE BAR STATION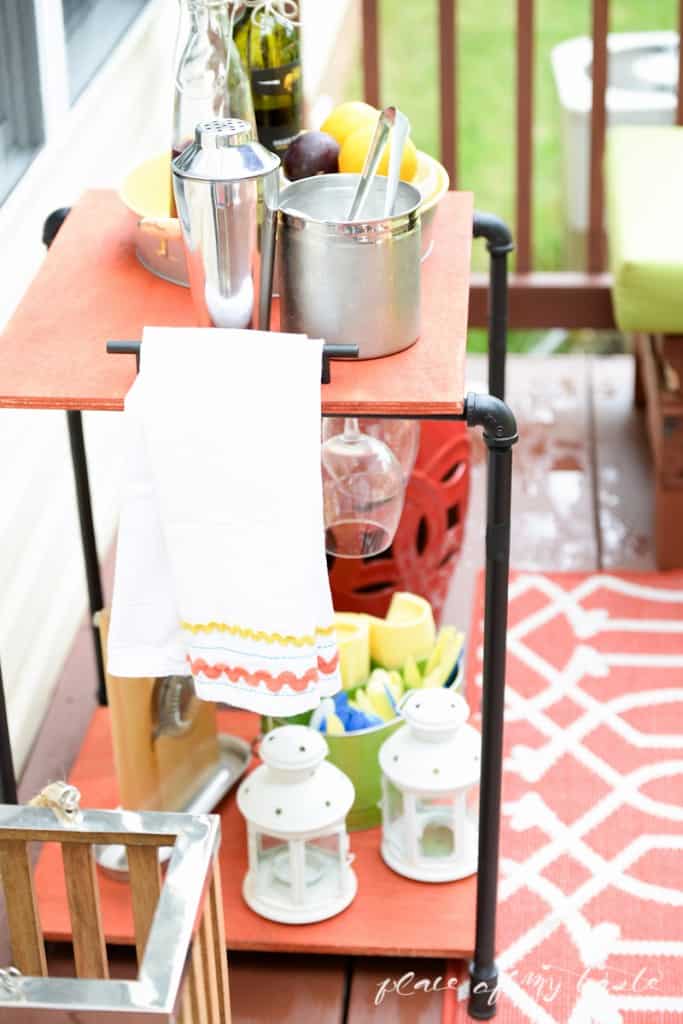 Thank you for reading today! I will be back next month with a wonderful recipe again.
Thanks Desi for sharing your space with me today!
Xoxo
We love Aniko around here!
You can also find Place Of My Taste on…
Pinterest, Facebook, Twitter, Instagram and Google +