How to make Apple Pie Bars with sweet vanilla drizzle. This is a delicious recipe that we love to make during the entire year but especially during the colder months of Winter and Fall. If you are an apple lover and enjoy baking easy Fall Recipes you are going to enjoy every bite of this incredible apple pie bars.
When I think about fall, the first two flavors that come to mind are apple and pumpkin recipes. These are two ingredients that are easy to find and available in locals grocery stores.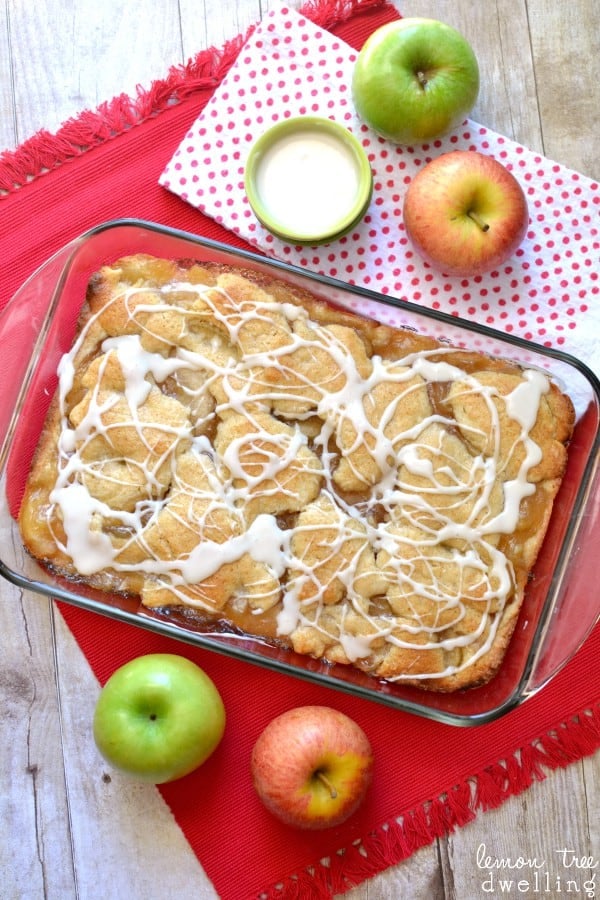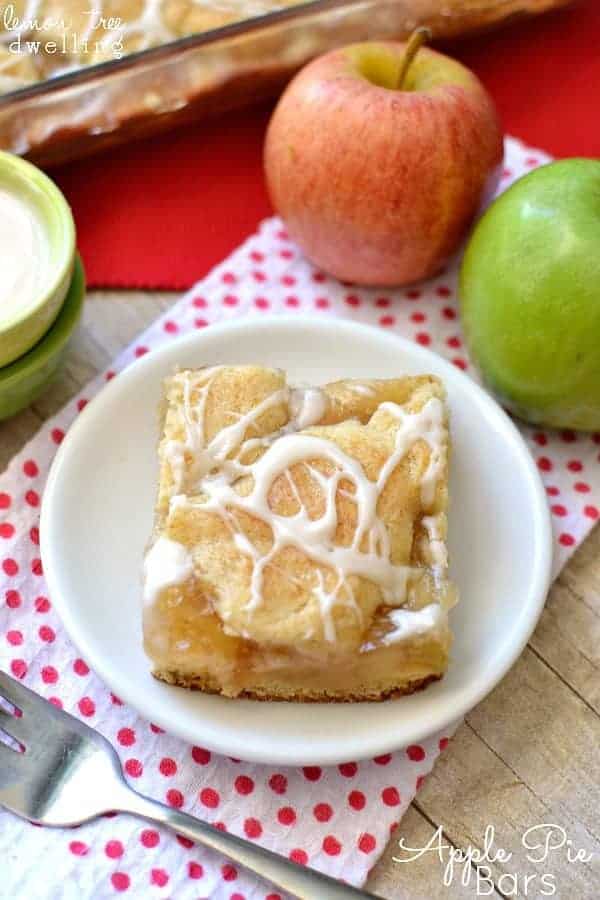 To be fair, apples are one of those fruits you can eat year-round…..and here at our home, we tend to do just that! But there's something about fall that makes all things apple taste even more delicious than usual and these Apple Pie Bars are no exception!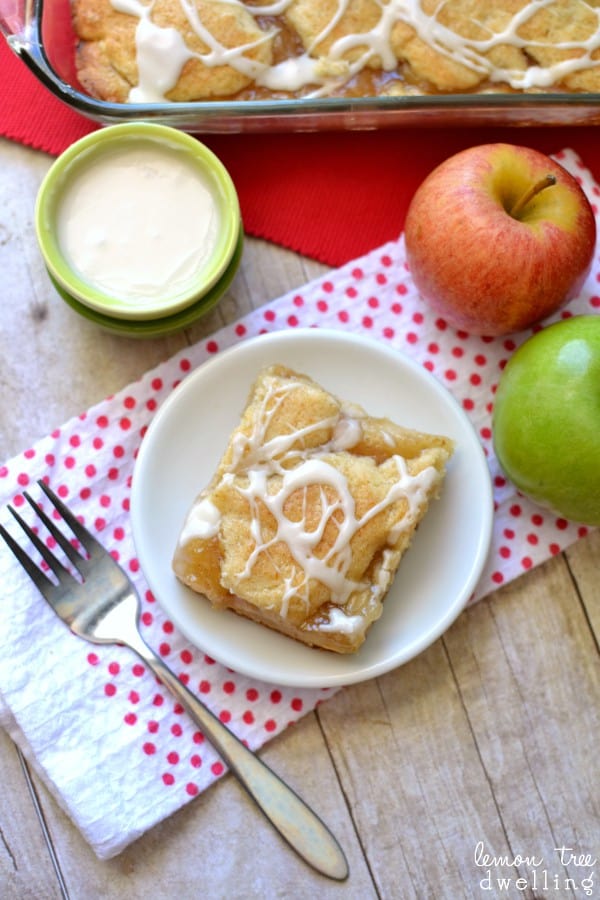 They come together in no time at all and are the perfect dessert to serve at fall gatherings, school parties, or family dinners. Best of all, they can be made with either canned or homemade apple pie filling….and either way, they're just as delicious! The BEST way to welcome in fall!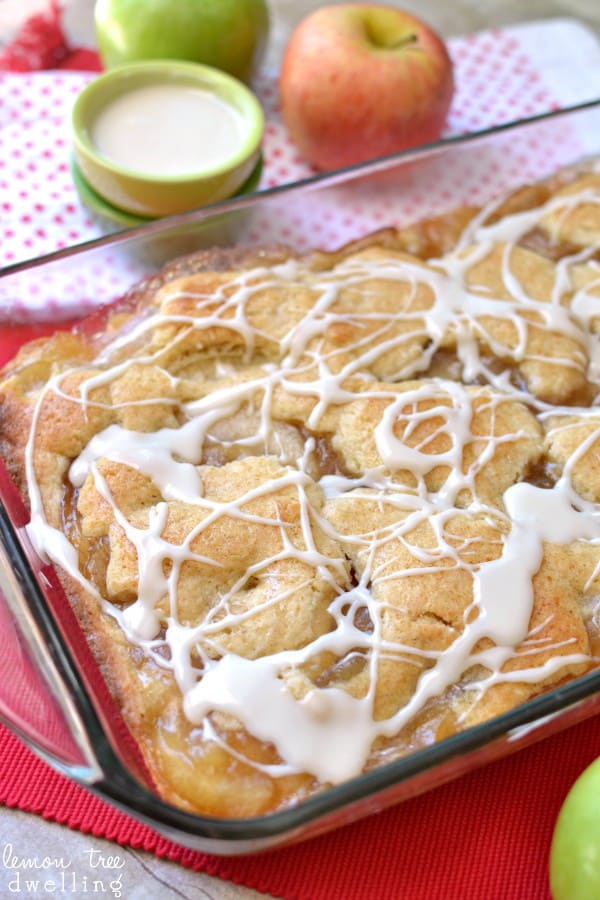 What are YOUR favorite fall flavors? I'd love to know!
Apple Pie Bars
Ingredients
½ c. salted butter, at room temperature
¾ c. sugar
2 eggs
1 tsp. vanilla
1½ c. flour
¾ tsp. baking powder
1 tsp. apple pie spice
2 c. apple pie filling (homemade or one 20 oz.can)
Drizzle
1 c. powdered sugar
1 Tbsp. milk
½ tsp. vanilla
Instructions
Cream butter; add sugar and beat well.
Beat in eggs one at a time.
Add vanilla.
Gradually stir in sifted dry ingredients.
Spread ¾ of dough in a lightly grease 8x11 inch baking pan.
Spread apple pie filling over dough.
Spoon remaining dough over pie filling, spreading lightly. *Not all pie filling will be covered.
Bake at 375 degrees for 35-40 minutes.
Cool 15 minutes; combine drizzle ingredients and spoon over bars.
Thank you so much to Lemon Tree Dwelling for contributing and sharing this yummy Apple Pie Bars with our awesome readers!
HERE WE HAVE OTHER FALL RECIPES FOR YOU!
PUMPKIN BLONDIES RECIPE <– CLICK HERE
With Thanksgiving around the corner, we decided to blend traditional flavors of pumpkin & cinnamon into a very tasty bite-sized snack.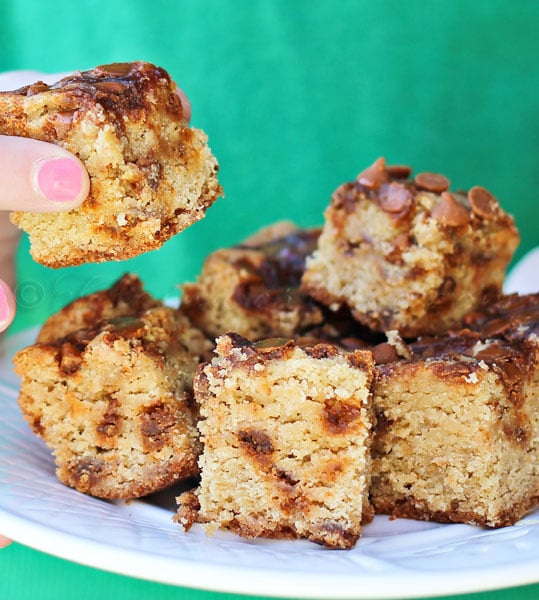 BEST FALL RECIPES  <—CLICK HERE
Is there anything better than the smell of nutmeg, cinnamon, pumpkin, cranberries, and homemade baked goods? If you love Fall Recipes as much as we do I believe you are going to love this delicious post!
SLOW COOKER CHICKEN RECIPES <— CLICK HERE.
Some call them Slow Cooker Recipes and some call them Crock Pot Recipes but no matter what we call them one thing these easy recipes have in common is that they are seriously delicious!
Thank you so much for stopping by today! Make sure to stay in touch and find me on INSTAGRAM!
Wishing you a delicious day!
Desi